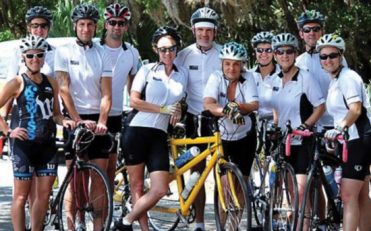 This spring and summer, several members of the St. Augustine campus took part in triathlons. Keeping with USA's core values, each person swam, cycled and ran their way to a healthy and productive lifestyle.
On June 17, 2012, nine students from 3rd and 4th terms competed in the Marineland Triathlon. Of the nine students, six competed in the sprint distance course (0.25 mile swim, 13 mi bike, 3.1 mile run) while three performed in the Olympic Distance course. Of the students who competed, three were registered as first time triathletes. The students involved were: Eric Barnes, Amanda Weekes, Lauren Campbell, Kristin Horne, Kelley Bretzeke, Lisa Tribble (Sprint distance) Isabel Kapp, Melanie Majewski, and Marissa Brown (Olympic Distance).
On June 23rd, Dr. Libby Bergman, one of our on-campus Fellows, who is an avid triathlete, and Dr. Joann Gallichio competed in a sprint distance where Dr.'s Bergman and Gallichio placed first and 13th respectively in the female division, both being first in their age group.
Dr. Bergman has had several successes this season, finishing as the 4th overall amateur at Ironman New Orleans 70.3 and 13th overall at Ironman 70.3 Haines City in May. She will compete in the Half Ironman World Championships in Las Vegas in September and was selected to race for Team USA at the Olympic Distance World Championships in New Zealand in October. We wish her all the best in her training and racing!
On July 8th, Dr. Gallichio competed in the Aquaphor NYC Triathlon. This race included professional and elite athletes from around the world. Dr. Gallichio was very satisfied with her race performance, finishing in the top 10% for her age group and top 11% of female competitors. The best part of the race for Dr. Gallichio was going to her home state of NY and having her entire family cheering her on at the finish line.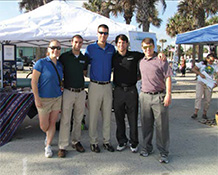 Hundreds of people turned out for the annual Don's Friend's 5k Run/Walk. Proceeds from this event benefit the Alternative Spring Break Program. This program is funded by college students who use their spring breaks to travel to less fortunate countries and help out the local communities. Many of these students do not have the funding to pay for their expenses while away. Donations from this event provide financial aid for the students who choose to help others on their breaks. This year the USA students will be going to Guatemala from August 18-25, 2012 to provide occupational therapy and physical therapy volunteer services at local clinics and hospitals.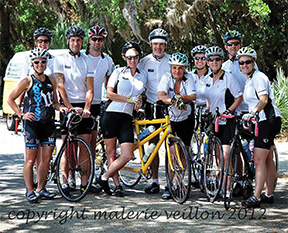 Saturday, April 14, 2012 the Wrigley Ride event was held in honor of USA student Bryan Wrigley who tragically passed away during a hit-and-run accident while cycling last year. This memorial ride was part of the Velo Fest, a 2-day festival to increase awareness of cyclists and drivers alike about the laws, health benefits, lower carbon footprints and the social aspect of cycling.