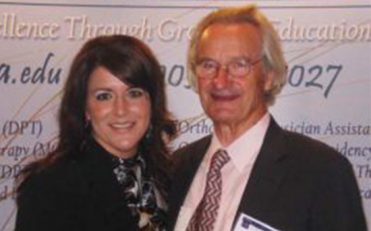 Faculty at the University of St. Augustine had an impactful presence at the American Academy of Orthopaedic Manual Physical Therapist Conference in San Diego, CA this October. Not only did our faculty have a strong showing during the poster presentations, several also gave platform presentations. Dr. Paris delivered the Inaugural Honorary Speaker address to kick off the event. What a wonderful turnout from USA!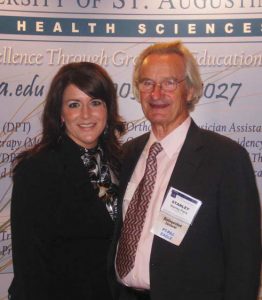 Dr. Stanley V. Paris was honored as the inaugural "Distinguished Lecturer" of the AAOMPT conference and presented a keynote address to the membership. Dr. Paris' presentation provided the membership a greatly appreciated history lesson of where our profession has been and how it has arrived to the point it is today. He provided great insight on his thoughts on Evidence Informed Practice and challenged the audience to think beyond the findings of a literary article and to treat the patient as a whole. Dr. Paris' presentation set the tone for the remainder of the conference as it laid the groundwork for one of the most talked about AAOMPT conferences in many years. – Dr. Eric Furto
Fellows Recognized
Amanda Grant-Roys and Matt Daugherty were recognized for completing a Credentialed Fellowship Program.
Residency Program Graduates
Tal Blair graduated from the Orthopaedic Physical Therapy Residency Program in the Summer 2011.
Pre Conference Course
Catherine Patla, Erin Conrad, Amanda Grant-Roys and Kristy Brandon taught a course titled: "Common Clinical Findings with Uncommon Links of the Lower Extremity: Evidence, Evaluation and Intervention"
Platform Presentations
Jeff Rot – "Manual Physical Therapy Management for a Pediatric Patient Diagnosed With Atlantoaxial Rotatory Subluxation With Pre/Post Intervention MRI Validation: A Case Report"
Jim Viti – "Use of the Multifidus Isometric Technique In Patients With Acute Neck Pain"
Poster Presentations
Scott Getsoian – "Costovertebral and Costotransverse Joint Manipulation To Improve Diaphragmatic Function in A Recreational Runner Presenting With Referred Shoulder Pain – A Case Report"
Amanda Grant-Roys – "Treatment For Functional Limitations From Constriction Band Syndrome"
Laura Johnson – "Enhancing Performance In Boxers: A Physical Therapist Guided Training Program – A Case Report"
Laura Johnson – "The Use Of Joint Manipulation, Soleus Eccentric Exercises, And Pilates For Treatment Of Ballet Dancer With Flxor Hallicus Longus Tendonopathy: A Case Report"
Catherine Patla, Janice Lwin, Laura Johnson – "Use Of An Ilium Belt To Treat Inguinal Nerve Irritation And Transverse Abedominus Weakness Associated With Psoas And Iliacus Pain In A Female Triathlete: A Case Study Report"
Catherine Patla, Janice Lwin, Laura Johnson – "Cuboid Internal Rotation Hypomobility As Primary Causative Factor For Chronic Posterior Tibialis Tendinosis: A Case Study Report"
Catherine Patla, Todd Bourgeois – "Scaphoid Captitate Thrust Manipulation For Restoring Functional Weight-Bearing Wrist Extension, Status Post Cyst Removal – A Case Report"
Deepak Sebastian – "Thoracic Radiculopathy/Intercosto-Brachial Nerve Syndrome: A Case Report"