Recent Stories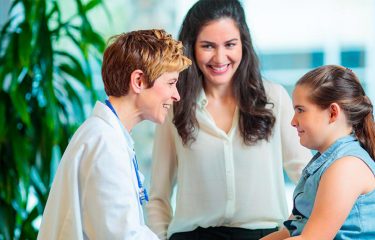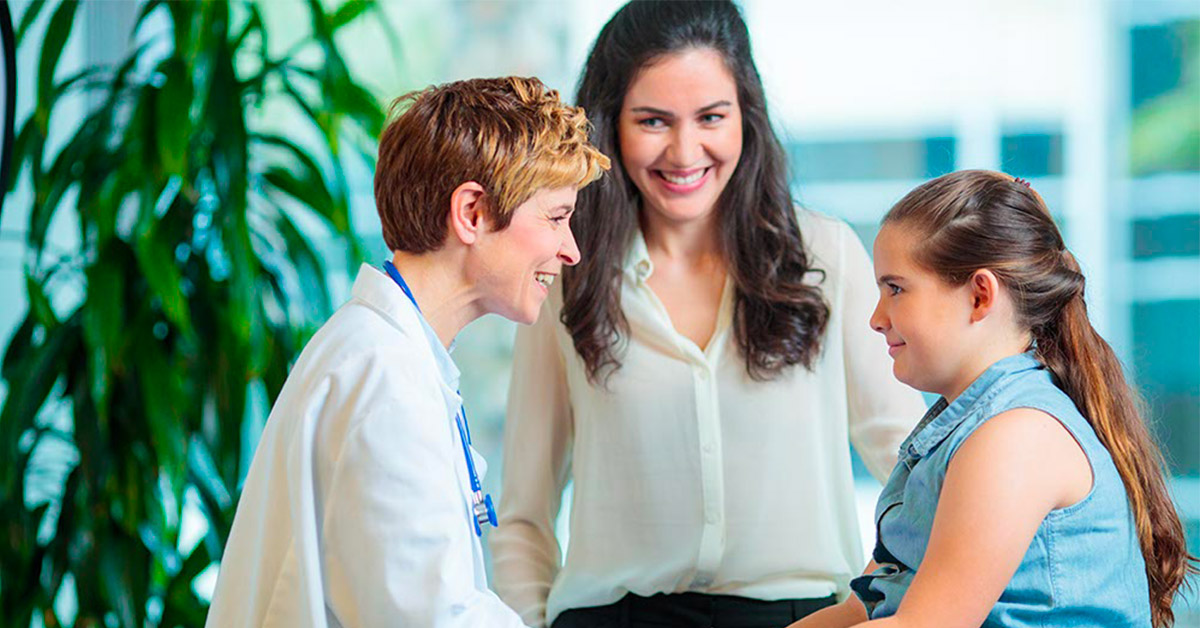 The door is open for many exciting career opportunities within nursing. Advanced nursing degrees prepare licensed nurses for expanded roles in clinical practice, leadership, and more. This post explores the two primary graduate nursing degrees, as well as specializations offered within some degree programs.
Why Get an Advanced Nursing Degree?
The demand for nurses with advanced nursing degrees creates exciting opportunities for nurses with graduate-level education.
In 2010, the Institute of Medicine released the landmark report "The Future of Nursing," calling for doubling the number of U.S. nurses who have doctoral degrees by 2020. The report, which is still influential today, argues that higher levels of nursing education leads to improved patient care. Now 2020 is here, and the current nursing workforce falls far short of these recommendations. Given this shortage of doctoral-qualified candidates, having an advanced degree can make you more competitive and desirable in the job market. 
Career Outlook
For nurse practitioners, who are advanced practice RNs with graduate-level nursing education, employment growth is projected to grow 52.4 percent between 2019 and 2029, with an estimated 110,700 jobs being added during that period.1 The demand for nurse practitioners is projected to grow so dramatically for several reasons, including a heightened emphasis on preventive care, growing rates of chronic health conditions, and increased life expectancies.
Although graduate school can be challenging, an advanced nursing degree can help propel your career forward and offer opportunities that are both personally and financially rewarding. 
According to the U.S. Bureau of Labor Statistics, the median annual pay for nurse practitioners was $109,820 in 2019.
Advanced Nursing Degrees: MSN & DNP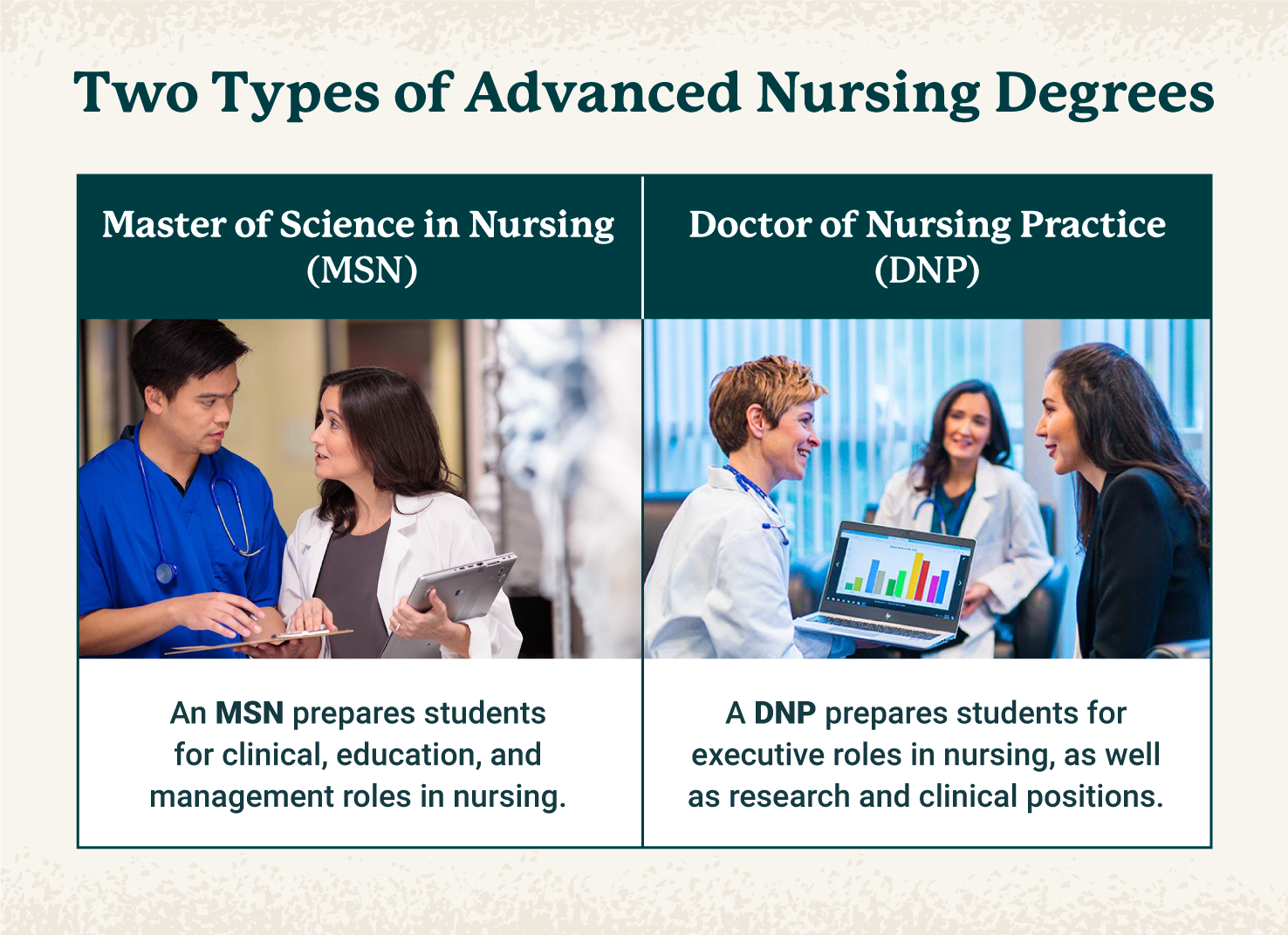 You can earn an advanced nursing degree, such as a Master of Science in Nursing (MSN) or Doctor of Nursing Practice (DNP), through an accredited university. There is a lot you can do with an MSN or DNP, including working in clinical, educational, leadership, and executive roles.
You can also choose to specialize in a particular area of nursing. Nursing specialties such as nurse educator, nurse executive, and family nurse practitioner give you the opportunity to play a vital role in the future of the profession.
16 Nursing Specialties to Pursue with an Advanced Nursing Degree
Below are examples of nursing specialties you can pursue with an advanced nursing degree.
1. Nurse Educator
Nurse educators work to educate students, practicing nurses, and other healthcare providers about patient care and best practices.
2. Nurse Executive
Nurse executives take on leadership roles in nursing, helping to coordinate patient care delivery and build relationships among staff. In this role, nurse executives advance the profession of nursing even as they manage financial and economic operations at their workplace. They are critical thinkers who lead teams and promote the mission and vision of their organization.
3. Nurse Informaticist
Nurse informaticists oversee healthcare technology systems, including electronic health records and business analytics software. They use technology to assist patients, providers, and organizations. 
4. Family Nurse Practitioner
Family nurse practitioners (FNPs) work with people of all ages to treat acute and chronic illnesses and promote preventative care. FNPs have a variety of responsibilities, including performing physical exams, administering immunizations, prescribing medications, and providing family planning services.
5. Psychiatric Nurse Practitioner
Psychiatric nurse practitioners work with patients who suffer from mental health conditions, such as depression and bipolar disorder. 
6. Nurse Anesthetist
Nurse anesthetists administer anesthesia to patients and monitor their vital signs during procedures. They are also responsible for overseeing patient recovery. 
7. Clinical Nurse Specialist
Clinical nurse specialists (CNSs) can be certified in a variety of clinical specialties. They are distinct from nurse practitioners in that in addition to focusing on clinical practice, they also take on roles related to education, research, and consulting. In this leadership capacity, CNSs work to mentor and advocate for both nurses and patients. 
8. Clinical Nurse Leader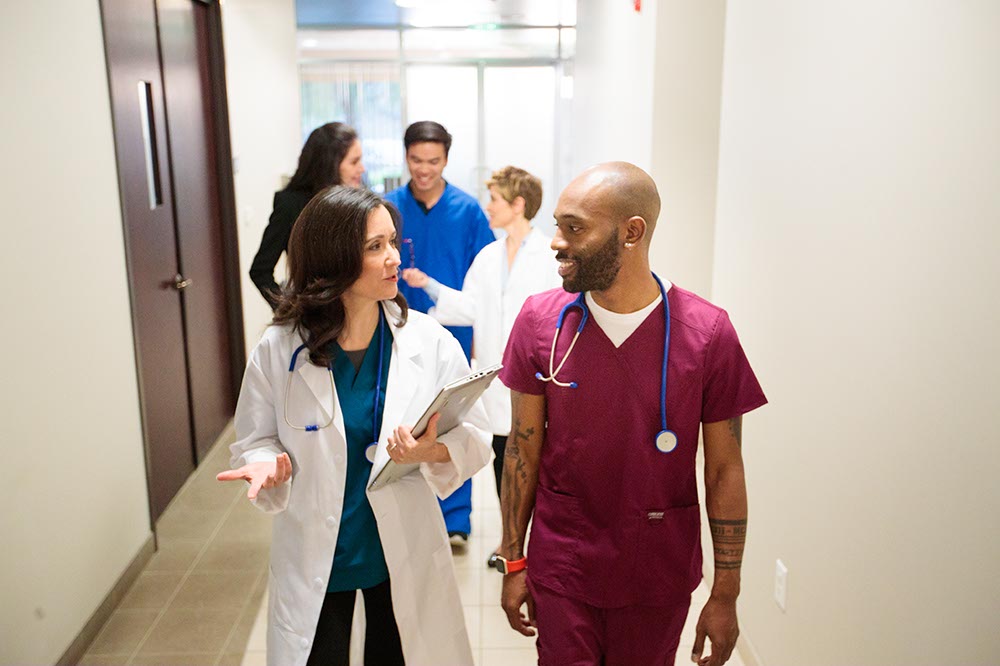 Clinical nurse leaders (CNLs) coordinate direct care activities, alter plans of care if necessary, and evaluate patient outcomes. This relatively new role was created by the American Association of Colleges of Nursing (AACN); to become a CNL, candidates must earn a master's degree that meets the AACN's requirements.
9. Pediatric Nurse Practitioner
Pediatric nurse practitioners specialize in children's health conditions. They provide children and their family members with the tools they need to remain healthy.
10. Public Health Nurse
Public health nurses keep communities safe through policy reform and community building. They focus on preventing disease, reducing health risks of the populations they serve, and ensuring that underserved and at-risk individuals have access to care.
11. Orthopedic Nurse Practitioner
Orthopedic nurse practitioners treat patients with joint, bone, and muscle problems. They work with physicians and other healthcare providers to develop patient care and discharge plans.
12. Gerontological Nurse Practitioner
Gerontological nurse practitioners work with elderly patients suffering from acute and chronic illnesses. They administer memory care to patients and are skilled in end-of-life measures.
13. Health Policy Nurse
Health policy nurses analyze healthcare laws and regulations, advocate for positive change, and promote healthcare reform. Health policy nurses may find positions in healthcare, nonprofit, and government organizations. 
14. Dialysis Nurse 
Dialysis nurses administer dialysis and medication to patients with kidney disease. They also are responsible for educating patients and maintaining patient records.
15. Dermatology Nurse
Dermatology nurses conduct skin exams and diagnose and treat various skin injuries and conditions, such as melanoma, burns, acne, and warts. They are also trained in administering cosmetic procedures, such as chemical peels and laser treatments. Dermatology nurses teach patients about proper skin care to prevent damage.
16. Nurse Midwife
Nurse midwives focus on women's reproductive health and childbirth. They assist patients with delivery, provide postpartum care, perform gynecological exams, educate patients on infant care, and more.
Advanced nursing degrees open doors for nurses in clinical care, education, and leadership. If you're interested in earning an advanced nursing degree, check out the graduate programs offered at the University of St. Augustine for Health Sciences. 
The University of St. Augustine for Health Sciences (USAHS) offers a Master of Science in Nursing (MSN) program, a Doctor of Nursing Practice (DNP) program, and Post-Graduate Nursing Certificates designed for working nurses. Our degrees are offered online, with optional on-campus immersions.* Role specialties include Family Nurse Practitioner (FNP), Nurse Educator,** and Nurse Executive. The MSN has several options to accelerate your time to degree completion. Complete coursework when and where you want—and earn your advanced nursing degree while keeping your work and life in balance.
*The FNP role specialty includes two required hands-on clinical intensives as part of the curriculum.
**The Nurse Educator role specialty is not available for the DNP program.
Bureau of Labor Statistics, "Employment Projections 2019-2020," Sep. 1, 2019: https://www.bls.gov/news.release/pdf/ecopro.pdf [↩]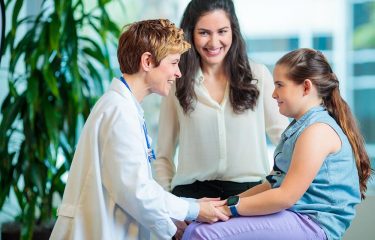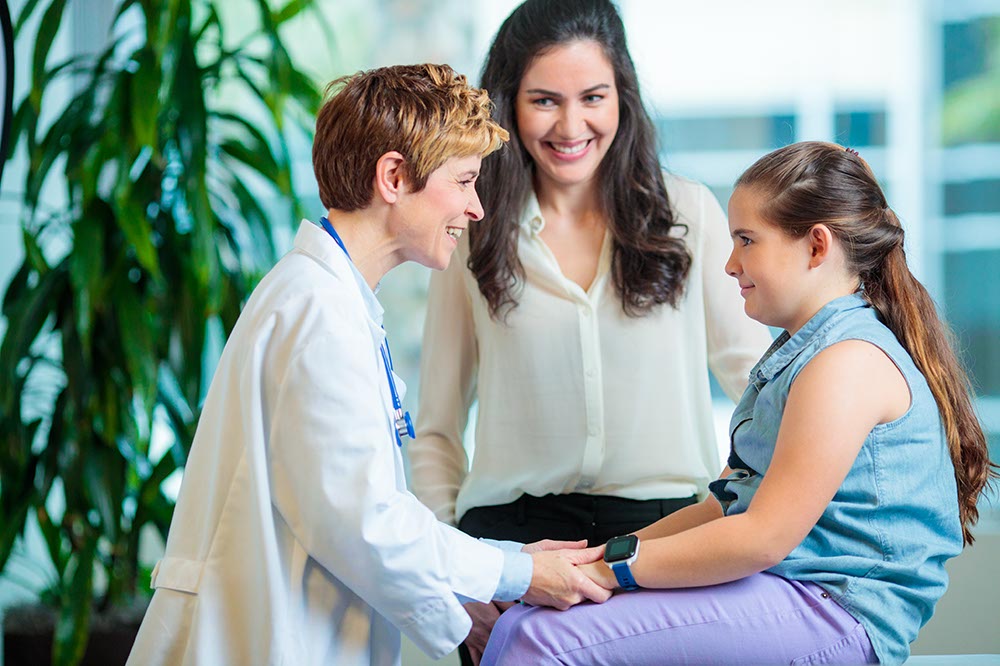 Nursing is a profession that requires great intelligence, motivation, and determination. Since nursing school can be hard, and shift work is even more challenging, it's important to remain inspired. In this post, we share nursing quotes to help you stay connected to your original dream and draw on strength to power through.
Jump to a section below to find:
Quotes About Nursing
1. "Save one life, you're a hero. Save 100 lives, you're a nurse." —Unknown
2. "A nurse is not what you do. It is what you are…. I am a nurse. It's not what I do, it's what I am." —Unknown
3. "Nurses are a unique kind. They have this insatiable need to care for others, which is both their greatest strength and fatal flaw." —Jean Watson, American nurse theorist and nursing professor
4. "Constant attention by a good nurse may be just as important as a major operation by a surgeon." —Dag Hammarskjöld, Swedish economist and diplomat
5. "A nurse is one who opens the eyes of a newborn and gently closes the eyes of a dying man. It is indeed a high blessing to be the first and last to witness the beginning and end of life." —Unknown
6. "Caring is the essence of nursing." —Jean Watson
7. "Nurses dispense comfort, compassion, and caring without even a prescription." —Val Saintsbury
8. "Every nurse was drawn to nursing because of a desire to care, to serve, or to help." —Christina Feist-Heilmeier, RN
9. "Nurses are there when the last breath is taken, and nurses are there when the first breath is taken. Although it is more enjoyable to celebrate the birth, it is just as important to comfort in death." —Christine Belle
10. "The trained nurse has become one of the great blessings of humanity, taking a place beside the physician and the priest." —Dr. William Osler, Canadian physician and founder of Johns Hopkins University
11. "America's nurses are the beating heart of our medical system." —Barack Obama
12. "Nursing is one of the fine arts: I had almost said 'the finest of fine arts.'" —Florence Nightingale, founder of modern nursing
13. "You treat a disease: you win, you lose. You treat a person, I guarantee you win—no matter the outcome." —Robin Williams in Patch Adams
14. "Our job as nurses is to cushion the sorrow and celebrate the job, every day, while we are 'just doing our jobs.'" —Christine Belle
15. "When you're a nurse, you know that every day you will touch a life or a life will touch yours." —Unknown
16. "Let no one ever come to you without leaving better and happier." —Mother Teresa
17. "Not all angels have wings … some have scrubs." —Unknown
Nursing School Quotes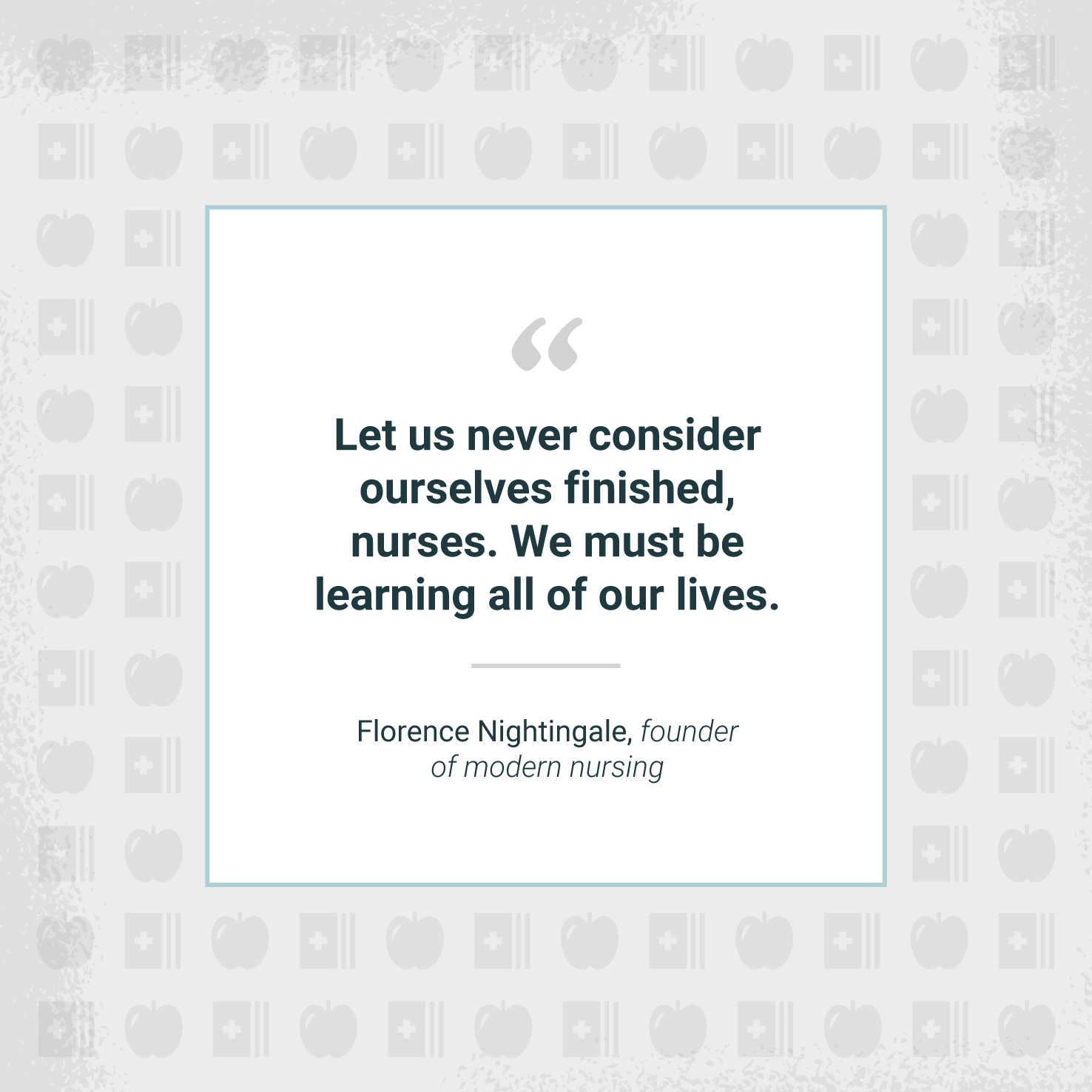 18. "Never give up on a dream just because of the time it will take to accomplish it. The time will pass anyway." —Earl Nightingale, American radio speaker and author
19. "Forgive yourself; you are not perfect. Show yourself grace; you are still learning. Show yourself patience; you are on a journey." —Unknown
20. "Hardships often prepare people for an extraordinary destiny." —C.S. Lewis
21. "To do what nobody else will do, in a way that nobody else can, in spite of all we go through, is to be a nurse." —Rawsi Williams, JD, BSN, RN, PhD
22. "I never dreamed about success—I worked for it." —Estée Lauder
23. "Nothing will work unless you do." —Maya Angelou
24. "When you feel like quitting, remember why you started." —Unknown
25. "I'm not telling you it's going to be easy, I'm telling you it's going to be worth it." —Art Williams, businessman and coach
26. "It's a beautiful thing when a career and a passion come together." —Unknown
27. "While that's correct… it's not the most correct. This is nursing school." —Unknown
28. "Develop a passion for learning. If you do, you will never cease to grow." —Anthony J. D'Angelo, educator
29. "Apprehension, uncertainty, waiting, expectation, fear of surprise, do a patient more harm than any exertion." —Florence Nightingale
30. "Panic plays no part in the training of a nurse." —Elizabeth Kenny, Australian bush nurse 
31. "Learning is a treasure that will follow its owner everywhere." —Chinese proverb
32. "Let us never consider ourselves finished, nurses. We must be learning all of our lives." —Florence Nightingale
33. "Education is the most powerful weapon which you can use to change the world." —Nelson Mandela
34. "Although your educational journey may be difficult at times, you will reap the reward of utmost satisfaction when holding your nursing diploma for the first time—and nothing will ever compare to the fulfillment that improving and saving the lives of others will bring!" —Mikhail Shneyder, Nightingale College president and CEO
Inspirational Nursing Quotes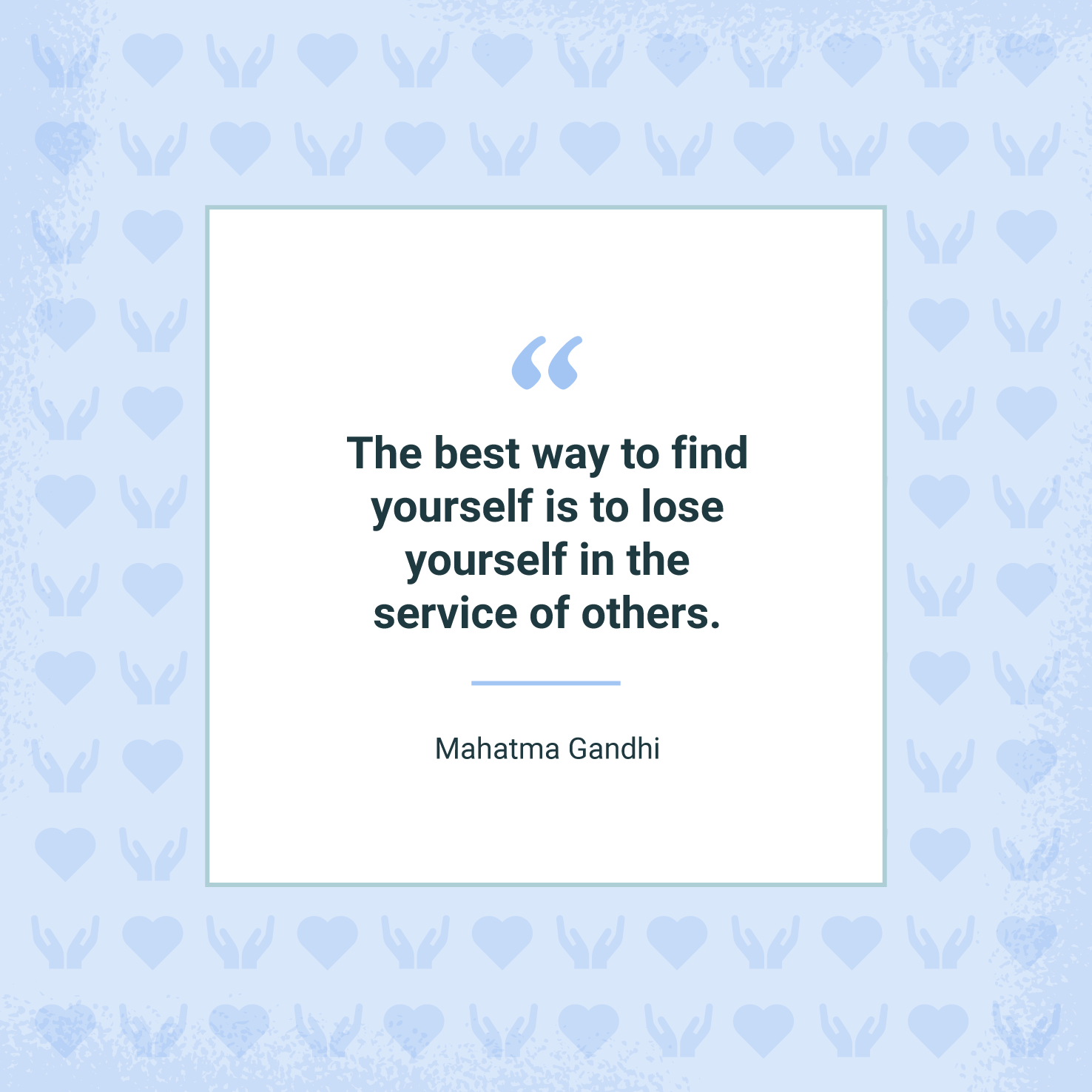 35. "Value what you do and add value by what you do." —Unknown
36. "If you can't figure out your purpose, figure out your passion. For passion will lead you right into your purpose." —Bishop T.D. Jakes, evangelist
37. "Nurses—one of the few blessings of being ill." —Sara Moss-Wolfe
38. "To know even one life has breathed easier because you have lived. This is to have succeeded." —Ralph Waldo Emerson
39. "Sometimes I inspire my patients; more often, they inspire me." —Unknown     
40. "Nurse: just another word to describe a person strong enough to tolerate anything and soft enough to understand anyone." —Unknown
41. "The best way to find yourself is to lose yourself in the service of others." —Mahatma Gandhi
42. "Be the nurse you would want as a patient." —Unknown
43. "Be kind, for everyone you meet is fighting a battle." —Plato
44. "Life is not easy for any of us. But what of that? We must have perseverance and, above all, confidence in ourselves. We must believe that we are gifted for something, and that this something, at whatever cost, must be attained." —Marie Curie 
45. "Nurses are the heart of healthcare." —Donna Wilk Cardillo, MA, RN, CSP 
46. "The meaning of life is to find your gift. The purpose of life is to give it away." —William Shakespeare
47. "The character of the nurse is as important as the knowledge she possesses." —Carolyn Jarvis
48. "A nurse will always give us hope, an angel with a stethoscope." —Carrie Latet
49. "Happiness … consists of giving, and in serving others." —Henry Drummond, evangelist 
50. "As a nurse we have the opportunity to heal the mind, soul, heart, and body of our patients. They may forget your name, but they will never forget how you made them feel." —Maya Angelou
51. "Have a heart that never hardens, a temper that never tires, a touch that never hurts." —Charles Dickens
Funny Nursing Quotes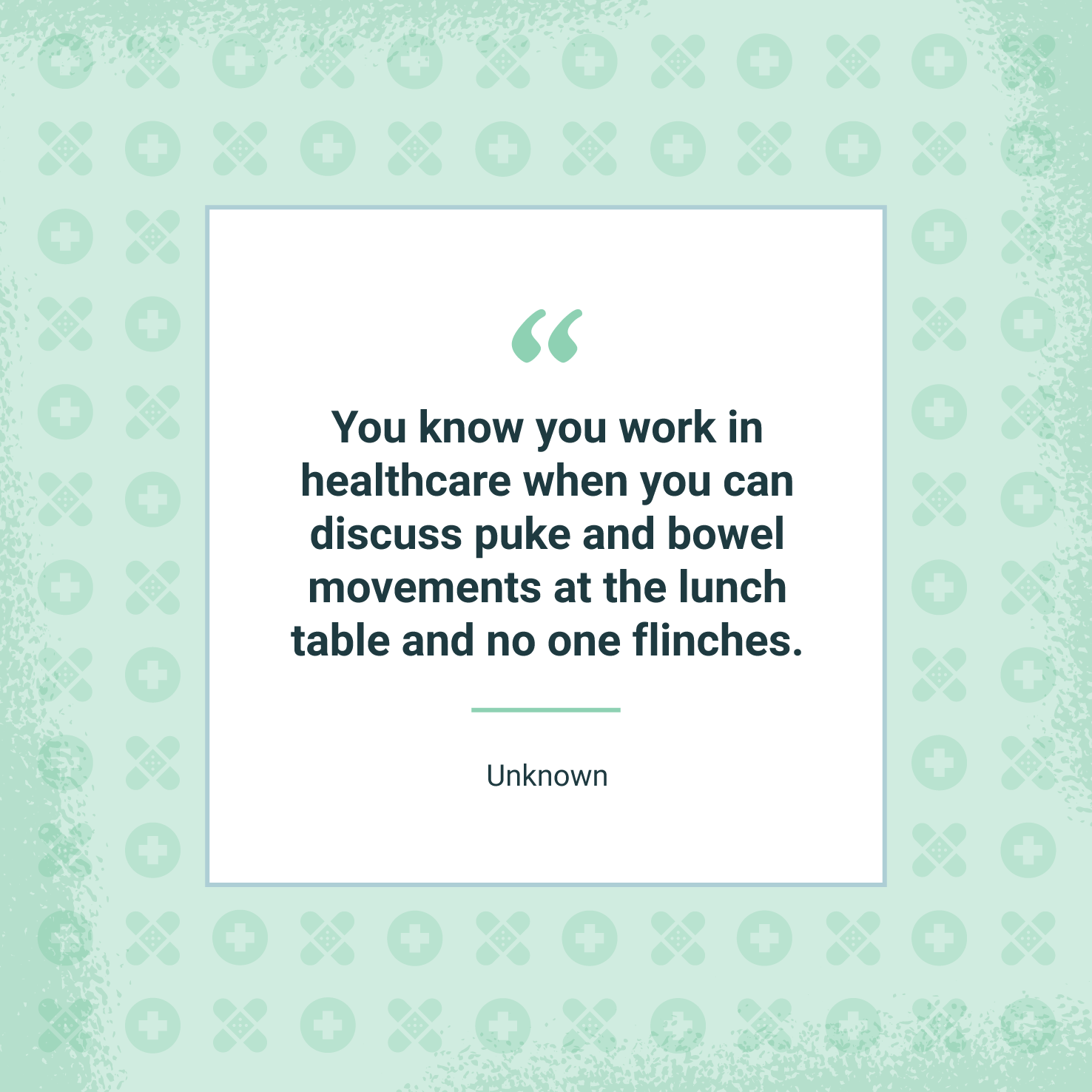 52. "Treat the patient as a whole, not just the hole in the patient." —Unknown
53. "Just so you know, doctors are here to diagnose, not heal. We heal." —Edie Falco in Nurse Jackie
54. "May your scrubs be comfy, your coffee be strong, and your Monday be short." —Unknown
55. "No, RN does not stand for 'Refreshments and Narcotics.'" —Unknown
56. "Yes, I am a nurse. No, I don't want to look at it." —Unknown
57. "Don't mess with me—I get paid to stab people with sharp objects." —Unknown 
58. "Hand sanitizer has started to become your best friend." —Unknown
59. "How can anybody hate nurses? Nobody hates nurses. The only time you hate a nurse is when they're giving you an enema." —Warren Beatty
60. "I'm a nurse. What's your superpower?" —Unknown
61. "I've come to the realization that I'll touch anything as long as I have gloves on." —Unknown
62. "Nursing is not a career … it's a post-apocalyptic survival skill." —Unknown
63. "You know you work in healthcare when you can discuss puke and bowel movements at the lunch table and no one flinches." —Unknown
64. "Remember, I'm a nurse. You're going to have to say a lot to gross me out." —Unknown
65. "Sometimes I have to remind myself around my non-nurse friends not to talk about bodily functions." —Unknown
66. "I'm a nurse because 'miracle worker' isn't an official title." —Unknown
67. "No, I will not rub your feet. I am a nurse, not a masseur." —Unknown
68. "I'm a nurse—nothing scares me." —Unknown
Nursing Graduation Quotes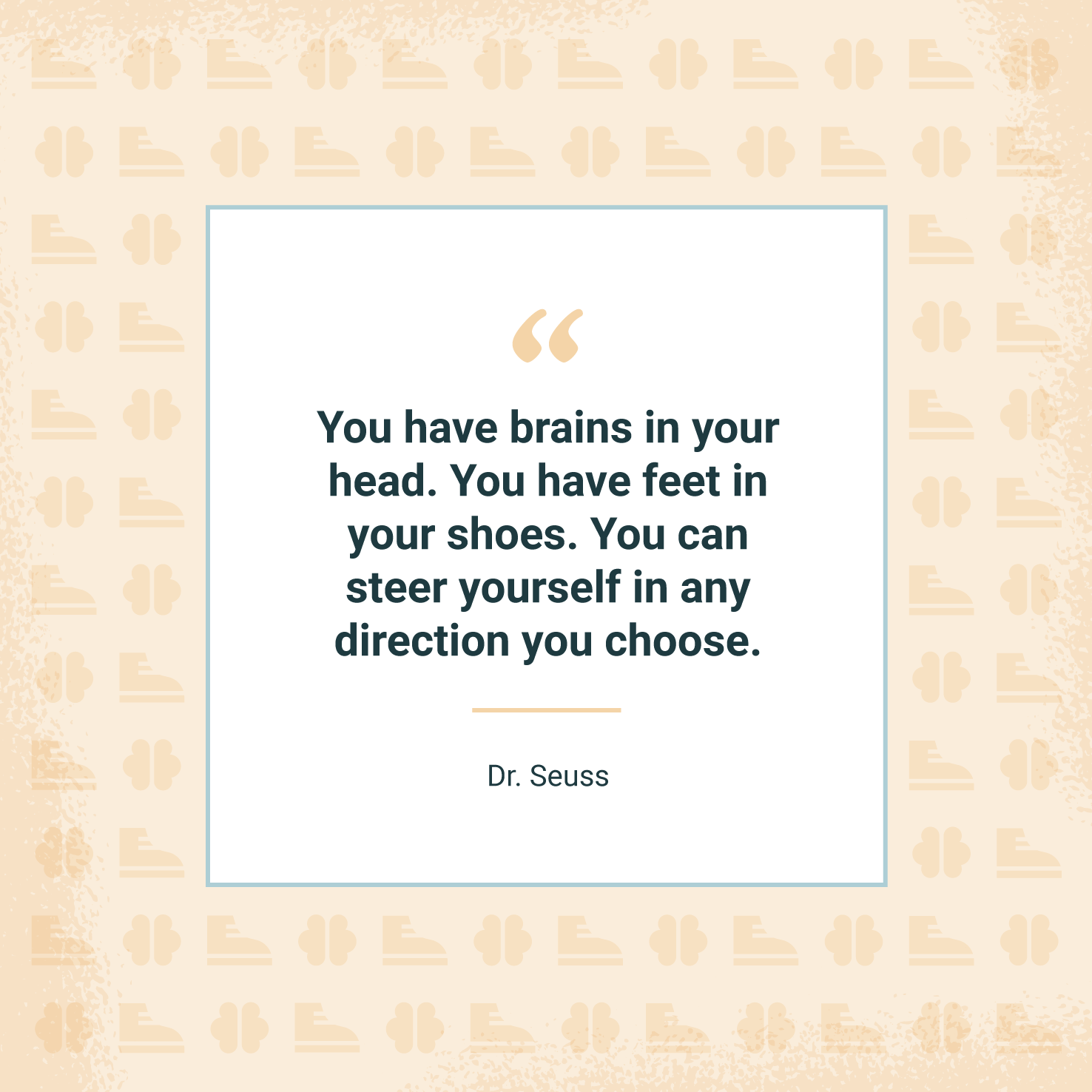 69. "Work for a cause, not for applause. Live life to express, not to impress. Don't strive to make your presence noticed, just make your presence felt." —Grace Lichtenstein, Author
70. "Fill your mind with truth. Fill your heart with love. Fill your life with service." —Vaughn J. Featherstone, American missionary 
71. "It is not how much you do, but how much love you put in the doing." —Mother Teresa
72. "Your profession is not what brings home your paycheck. Your profession is what you were put on Earth to do with such passion and such intensity that it becomes spiritual in calling." —Vincent Van Gogh
73. "You have brains in your head. You have feet in your shoes. You can steer yourself in any direction you choose." —Dr. Seuss
74. "I attribute my success to this; I never gave nor took any excuse." —Florence Nightingale 
75. "Choose a job you love, and you will never have to work a day in your life." —Unknown
76. "Success comes to those who are too busy to look for it." —Henry David Thoreau
77. "When I think about all the patients and their loved ones I have worked with over the years, I know most of them don't remember me, nor I them. But I do know that I gave a little piece of myself to each of them, and they to me, and those threads make up the tapestry that is my career in nursing." —Donna Wilk Cardillo, MA, RN, CSP 
78. "There no longer has to be a difference between who you are and what you do." —Gary Vaynerchuk, entrepreneur and author
79. "Your work is going to fill a large part of your life, and the only way to be truly satisfied is to do what you believe is great work. The only way to do great work is to love what you do." —Steve Jobs
80. "We may encounter many defeats but we must not be defeated." —Maya Angelou
81. "So never lose an opportunity of urging a practical beginning, however small, for it is wonderful how often in such matters the mustard-seed germinates and roots itself." — Florence Nightingale
82."How very little can be done under the spirit of fear." —Florence Nightingale
83. "Intelligence without ambition is a bird without wings." —Salvador Dali
84. "I think one's feelings waste themselves in words; they ought all to be distilled into actions which bring results." —Florence Nightingale 
85. "Keep your thoughts positive because your thoughts become your words. Keep your words positive because your words become your behavior. Keep your behavior positive because your behavior becomes your habits. Keep your habits positive because your habits become your values. Keep your values positive because your values become your destiny." —Mahatma Gandhi

The best nurses are passionate and dedicated to the work that they do. They are able to stay motivated during hard times and brush off the little things. A career in nursing is challenging, but it's even more rewarding. If you want to become a nurse practitioner or to take on other advanced roles in nursing, check out the Master of Science in Nursing (MSN) and Doctor of Nursing Practice (DNP) programs at the University of St. Augustine for Health Sciences.
The University of St. Augustine for Health Sciences (USAHS) offers a Master of Science in Nursing (MSN) program, a Doctor of Nursing Practice (DNP) program, and Post-Graduate Nursing Certificates designed for working nurses. Our degrees are offered online, with optional on-campus immersions.* Role specialties include Family Nurse Practitioner (FNP), Nurse Educator,** and Nurse Executive. The MSN has several options to accelerate your time to degree completion. Complete coursework when and where you want—and earn your advanced nursing degree while keeping your work and life in balance.
*The FNP role specialty includes two required hands-on clinical intensives as part of the curriculum.
**The Nurse Educator role specialty is not available for the DNP program.
Sources:
Caring Nurses Services, "The 13 Reasons Why Nurses Are Great," Jan. 29, 2018: http://www.caringnurse.org/13-reasons-why-a-compilation-of-powerful-quotes-about-how-great-nurses-are
Nurse Buff, "60 Inspirational Nursing Quotes for Graduation," April 16, 2018: https://www.nursebuff.com/nursing-graduation-quotes/
Nurse Fuel, "Inspirational Nursing Quotes to Help Get You Through Your Day": http://nursefuel.com/nursing-quotes-inspirational/
Nurse Theory, "30 Inspirational Nursing Quotes": https://www.nursetheory.com/nursing-quotes/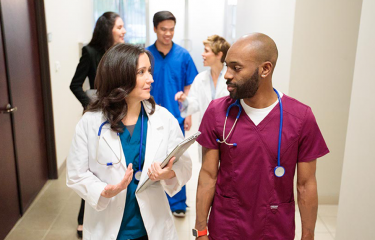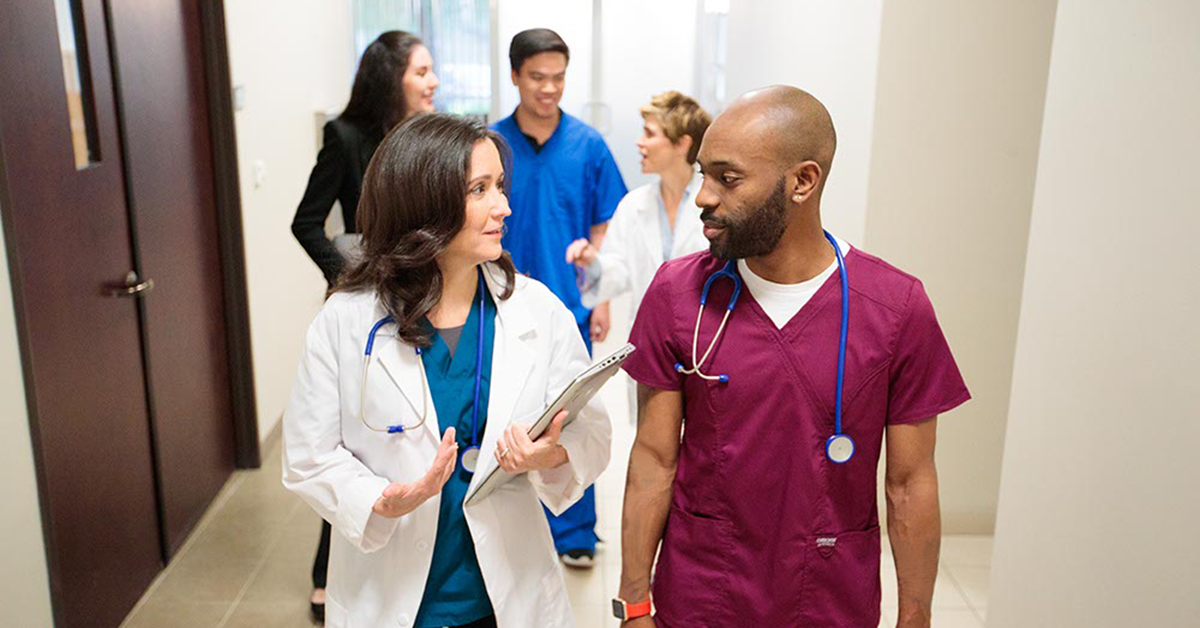 What's the best way to find a great job in the nursing world?
You can start by not doing what everyone else does.
"When they're searching for a job, people tend to do what they know," says Keith Carlson, RN, BSN, NC-BC. "They look at job boards, apply to several positions, and wait. This is one-dimensional, and the competition is tough."
Carlson is an author, blogger, and nursing career coach known widely as "Nurse Keith." "Think bigger," he says. "Don't just do what everyone else does. Leverage your talents and do what makes you shine!"
But how? By marketing yourself, Nurse Keith says—through networks and relationship building. Marketing principles will help you articulate your unique value and get your message across to the right people.
The concept of "marketing yourself" may seem strange, but it applies to you, whatever your nursing role specialty or degree level. It's especially relevant if you hope to advance to a managerial or leadership position—because the higher the position, the fiercer the competition. Marketing principles can even be helpful when you're applying to a graduate nursing program such as a Master of Science in Nursing or a Doctor of Nursing Practice program. You can use these techniques to articulate your value in your personal statement and interview.
Laying the Groundwork
Identify your target audience.
Think about the ideal organization that you would like to work for, and gather information about it so you can tailor your approach. What are its strengths and pain points? What sort of support does it need? What is its work culture like (and would that culture be a fit for you)? Then when you approach the organization, you can demonstrate that you understand and value its mission and people.
Assess what separates you from the pack.
"Standing out from the competition is paramount," Nurse Keith says. How can you benefit the organization—and its patients—in a way that no one else could? As you more clearly articulate your value, you build a personal brand that's composed of who you are, what you do, how you do it, and how it's unique from what others offer. For example, your brand could include:
Your areas of professional interest, research, experience, and expertise
Your particular strengths in communication and collaboration
Your attitude of confidence and pride in your work, along with your eagerness to learn
Your ability to stay calm and focused and make good decisions under pressure
Your understanding of the organization's work culture and needs
Craft your messaging.
Once you've identified your audience and begun to define your personal brand, you'll be able to craft messages that will resonate with potential employers. Experiment with writing shorter and longer summaries of what you do and how you can help. Start with a longer pitch that you could use for a cover letter or during an interview. Then shave that down into an elevator pitch that you could post on your LinkedIn and Facebook profiles. (An "elevator pitch" is one you could deliver in an elevator ride of 20–30 seconds.) These messages are also a way to demonstrate your communication skills.
Getting Out There
Network in person.
Now that you've got some messaging ready, it's time to start road-testing it with your network. Nurture relationships with the people you meet in school, on the job, and in your personal life: You never know where the next hot job lead will come from.
Joining a professional association and attending nursing conferences are great ways to expand your network. Strike up conversations with nurses and people from other healthcare disciplines, and exchange business cards. Keep in touch online and try to meet again in person, if possible. Also attend social events sponsored by your company to meet people from other departments.
Connect on social media.
Keep your LinkedIn profile updated with your latest accomplishments, and request connections with colleagues, nursing friends, and others in the healthcare world. Share interesting articles or your own reflections on your feed, and comment on what others post. Consider writing an article about a topic of your expertise and posting it across platforms. Use LinkedIn to reach recruiters and make inroads into organizations of interest. Ask colleagues to endorse you, and do the same for others.
Facebook and Twitter are also good platforms for making professional connections. Facebook has many nursing-specific groups where members discuss current topics in the profession. Just don't post anything that you wouldn't want your colleagues or employers to see.
Be generous with others.
When you network, your message should be, "How can I support you?" Not, "How can you get me a job?" It's also best to emphasize benefits (how you can help) rather than features (what you've accomplished).
Be generous. Pass along job referrals, introduce people that might benefit from knowing each other, endorse and recommend coworkers, and share your colleagues' articles and posts. People will appreciate your efforts and will want to reciprocate.
Nurse Keith calls his blended online/in-person approach "guerrilla networking." He explains, "You get in someone's face, in a good way. Use Google to see what other nurses are doing. Hang out on social media, especially Facebook, Twitter, Instagram, and LinkedIn. When you find a nurse who's doing something cool, ask them for an informational interview. Take them out for breakfast if they're local, or jump on Skype for 15 minutes to pick their brain and ask advice. Most people like talking about what they do."
Nail that interview.
Once these techniques get you a shot at an exciting position, bring them all to the job interview. Your interview is your sales pitch and a chance to close the deal. You got this!
Think outside the box.
If you see yourself in an outside-the-box nursing career, such as becoming a nurse business owner, check out our interview with Nurse Keith on nurse entrepreneurship for ideas and inspiration.
The University of St. Augustine for Health Sciences (USAHS) offers a Master of Science in Nursing (MSN) program, a Doctor of Nursing Practice (DNP) program, and Post-Graduate Nursing Certificates designed for working nurses. Our degrees are offered online, with optional on-campus immersions.* Role specialties include Family Nurse Practitioner (FNP), Nurse Educator,** and Nurse Executive. The MSN has several options to accelerate your time to degree completion. Complete coursework when and where you want—and earn your advanced nursing degree while keeping your work and life in balance.
*The FNP role specialty includes two required hands-on clinical intensives as part of the curriculum.
**The Nurse Educator role specialty is not available for the DNP program.
Sources
Keith Carlson, "Elevate Your Nursing Job Interview Skills," Nurse Keith's Digital Doorway, June 17, 2019: http://digitaldoorway.blogspot.com/2017/07/elevate-your-nursing-job-interview.html#more
Keith Carlson, in-person interview, October 21, 2019.
Rod Colon, "Promote your nursing career like a business," Nursing2020, January 2013: https://www.nursingcenter.com/journalarticle?Article_ID=1493951&Journal_ID=54016&Issue_ID=1493946
Nurse Practitioner Business Owner, "Marketing for Nurse Practitioners": https://npbusiness.org/marketing-nurse-practitioners/
Dawn Papandrea, "Networking Tips to Advance Your Nursing Career," Nurse.org, August 18, 2015: https://nurse.org/articles/networking-tips-to-advance-nursing-career/