Recent Stories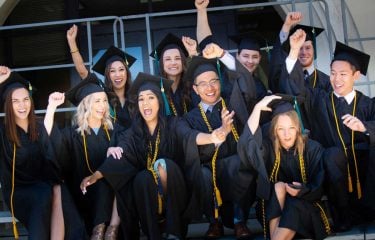 Video Included
We're proud of our 567 graduates for rolling with the challenges of 2020! Not only did they successfully complete their studies during a pandemic—they had to pop the champagne at home. Our Fall graduations went virtual on four USAHS campuses, celebrating graduates from our physical therapy, occupational therapy, and speech-language pathology programs.
Graduates created slides about themselves for a slide show that was a centerpiece of the ceremonies. They thanked their support people and shared words about how they will be a "force for good" in their chosen profession. Faculty and staff members also made encouraging video messages. Check out some highlights!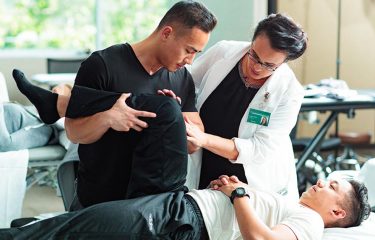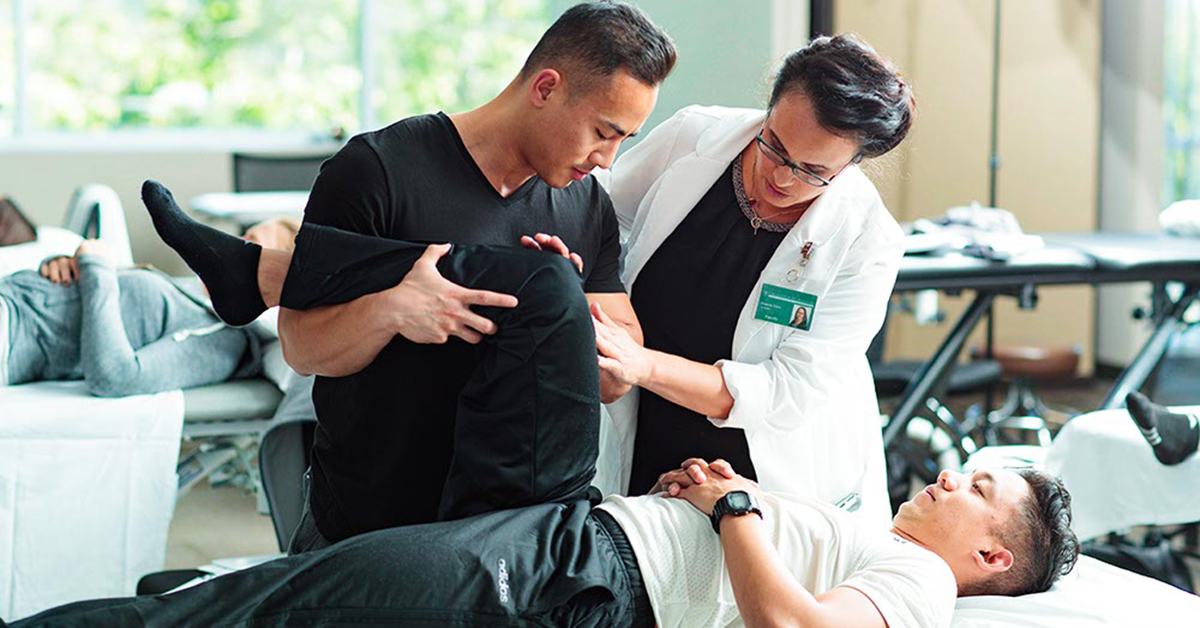 Mentors are an important resource for the new physical therapist (PT). After you graduate with your Doctor of Physical Therapy (DPT) degree, a mentor can guide you as you launch your career, helping you hone your clinical skills, design creative treatment plans, and solve complex client problems. Your mentor will give you the inside scoop on how things work in the field and will teach you new perspectives on client care. They may even be able to advise you on starting your own PT practice.
Whether your mentoring relationship is an informal agreement with an individual or a formal mentorship program, it can help ease the transition between graduate school and working in the real world. A mentorship is more flexible and less time-intensive than a residency, while giving you a similar benefit of continued instruction and professional growth. But how do you find a mentor who is right for you?
Approaching Individuals
Before you start looking for potential mentors, it may help to ask yourself, "Who are some of the dreamers and leaders I admire in the world of physical therapy"? "What inspires me about their career path and professional values?" Consider:
Professional colleagues. If a PT's treatment philosophy or attitude lights a fire within you, follow that impulse. Approach them, or PTs like them, to be your mentor.
If you had a professor in PT school who inspired you, you might ask them if they are willing to be your mentor. You will already have a level of comfort with and respect for them. However, if they are unfamiliar with how mentorship works, you will need to work together to make sure you're getting the support you need.
Choosing your own independent mentor has some advantages over receiving an assigned mentor at your job. You can be more assured of a good fit, and you can guide the relationship to get what you need. An independent mentor can help you make good networking connections and get your foot in the door. They can also be a sounding board for you to discuss any frustrations you might have within a safe environment.
It may take some networking to find that person. Ask your classmates and colleagues for referrals, and make yourself visible in places where other PTs go. Join a professional association and create a presence for yourself in PT social media groups. Open yourself up to new ideas to expand your possibilities.
Joining a PT Mentorship Program
Although it won't allow you to choose your own mentor, a formalized program has the advantage of giving more structure to your mentorship experience. Consider mentorship programs run by:
Your new employer. Many PT clinics and hospitals offer structured mentorship programs to new hires who are fresh out of grad school. With this option, you'll get paid as you learn. Some programs offer less pay in exchange for mentorship. Weigh the options to decide if this is worth it. If the salary your employer offers during your mentorship is quite low, be sure to ask if a raise will be feasible upon completion of the program. Otherwise, you might be stuck at that low rate long-term.
Clinical rotations with good reviews from your peers. Clinics with well-structured rotation programs are likely to offer strong mentorship programs as well.
Professional organizations. The American Physical Therapy Association (APTA) offers programs that pair less experienced PTs with seasoned PT mentors. These mentoring relationships may be remote and therefore less hands-on than working with a professor, colleague, or through your new employer; however, you'll be part of a well-established program dedicated to advancing the profession.
You can find a high-quality mentorship program through:
Word of mouth. By far the best way to find a good mentorship program is to hear about it directly from someone with experience in the practice. Ask around. If you have a friend who went through a program and raved about it, that's the best endorsement you can get!
Online research. Surf the websites of local companies and look for information about their programs.
Questions You Can Ask
If your new job offers a mentorship program, here are some questions you can ask during your interview to ensure that the program is real and substantial:
Who will be my mentor—what is their background, and what are their areas of practice interest?
What type of mentoring/teaching experience do they have, and how much?
What is their teaching style?
Will the mentor focus on particular treatment modalities?
How is the mentorship program structured, e.g., how many hours is it per week, and how long does the program last? How am I evaluated, and how is feedback given?
What is expected of me as a mentee—performance, milestones, and outside projects?
If you feel comfortable doing so, you may want to ask if you can meet your mentor in advance, to get a sense of whether you would have good collaboration chemistry.
Working with your mentor
When you start working with your mentor, remember to:
Be prepared. Review basic exam techniques in advance to make the most of your time together, and come ready to ask questions.
Be respectful. Your mentor may provide feedback that's hard to hear, or they may have the occasional bad day. Always stay respectful and centered, and never embarrass your mentor in front of clients.
Be sure to give back. Working with a mentor is a two-way street. Mentors take on their role not only to help new PTs build their confidence, but also because they are eager to learn from you. If you are discovering exciting ideas or techniques on the job or from other sources, be sure to share them with your mentor.
The largest PT school in the United States,* the University of St. Augustine for Health Sciences (USAHS) offers a hands-on Doctor of Physical Therapy (DPT) degree. Practice with mock and real patients in our state-of-the-art simulation centers and learn anatomy with our high-tech tools. Prepare for clinical practice with a wide range of patients, as well as advanced roles in research, practice leadership, and policymaking. Residential and Flex (online/weekend) paths are available.
*Based on total DPT degrees conferred, as reported by the Integrated Postsecondary Education Data System (IPEDS). Data is captured by IPEDS through interrelated surveys conducted annually by the U.S. Department of Education's National Center for Education Statistics (NCES). https://nces.ed.gov/ipeds/
Sources
Meredith Victor Castin, "How to Find a Great Physical Therapy Mentor," April 25, 2018: https://covalentcareers.com/resources/find-great-physical-therapy-mentor/
April Fajardo, "PT and Mentorship: Do's, Don'ts and Key Questions," February 27, 2019: https://www.clinicient.com/blog/pt-and-mentorship-dos-donts-and-key-questions/
My PT Solutions, "Where Can I Find a Great Physical Therapy Mentorship Program?" https://myptsolutions.com/best-mentorship-programs-new-therapists/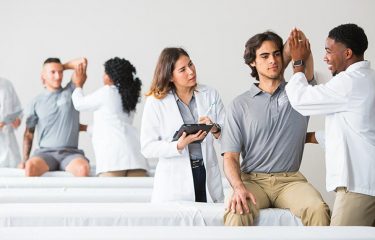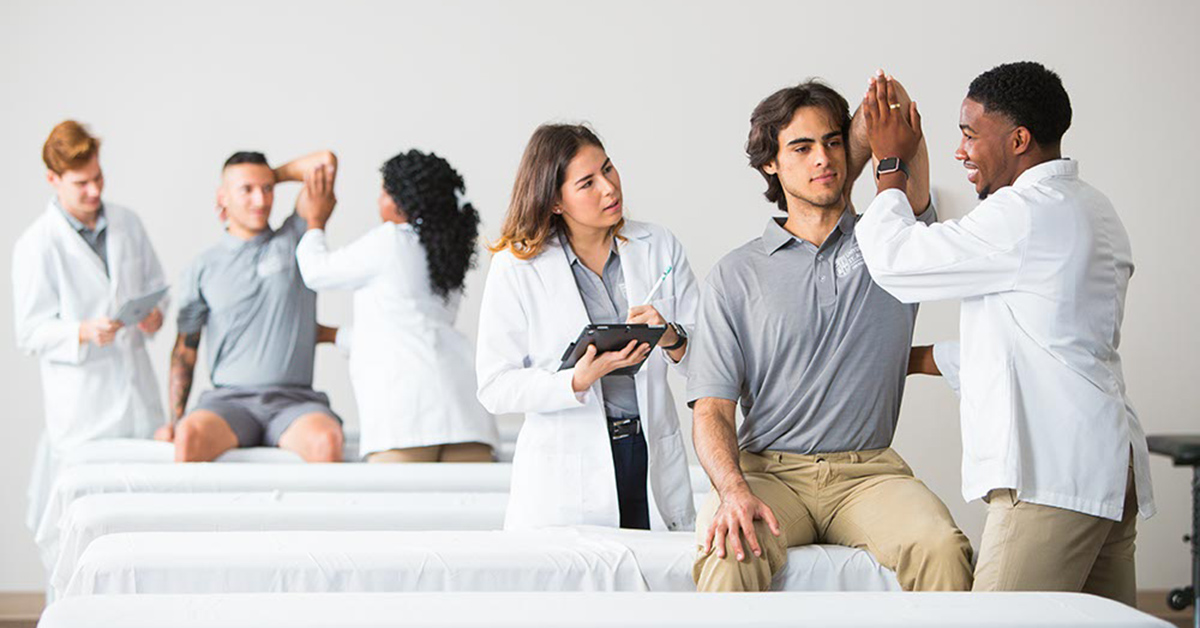 When your clinical rotations begin, so does one of the most exciting phases of your Doctor of Physical Therapy (DPT) program. Your rotations are a chance to bring your classroom knowledge to life, learn how clinics function, and start working with patients in a clinical setting. But the first few weeks can also be nerve-wracking, as you navigate the challenges of working with a mentor and applying new skills. Here are 8 tips on how to work with your clinical instructor (CI) and make the most of your rotations.
Reach out to your CI regarding logistics. Before your first day, ask your clinical instructor about logistics such as parking, dress code, and what your schedule will look like. How many clients will you be seeing per day? What is their age range, and what are some typical diagnoses? Will you be working on an interprofessional team of therapists? Does the clinic emphasize any specific techniques or skills? This information will give you an idea of what to expect and will help you narrow your focus as you move to the next step.
Brush up on the basics. Hit the books the week before you start, reviewing diagnoses, basic exam techniques, and therapeutic interventions. Practice hands-on skills like vitals, reflexes, goniometer measurements, and common tests. You'll go into your first day with more confidence. You'll also avoid needing to review basic skills with your CI, freeing up time to discuss advanced theories and techniques.
Communicate with your CI now and throughout the experience. Early on, have a conversation with your CI about your goals for this clinical experience and your CI's expectations for your learning and performance. Do some self-reflection on your own learning style and communicate about this with your CI. Also ask your CI what their learning and teaching style is, and discuss how you both can adjust for differences. Check in often about your performance (see #7 below) and keep the channels of communication open throughout the experience.
Also find out how the patient documentation process works at this clinic. Ask if you can receive handouts that explain what's needed and why.
Have confidence in your abilities. You've already learned a lot in your physical therapy courses and labs, and you're more prepared than you may realize. Even if you're nervous, try to project an appropriate level of confidence, since this is reassuring to patients.
But don't overcompensate. If your go-to feeling is confidence even in new situations, that's great—but make sure you know what you're doing when you're treating patients. If a situation arises that you aren't sure about, it's better to hang back and follow the advice in Tip 6.
Accept the fact that you will make mistakes. Your clinical rotations are designed for learning. There's no shame in making the inevitable mistakes. In fact, it's better to do so in this structured environment where you can receive guidance from your CI and analyze the situation with them so you can handle it differently next time. Your CI will expect this as part of their job.
Prepare to receive feedback. Another key aspect of your CI's role is to offer constructive criticism on your work. It can be challenging to receive such feedback without getting defensive—but keep in mind that its purpose is to help you improve as a practitioner. Try to avoid getting upset, blaming someone or something else, debating the validity of the feedback, or dismissing the comments. Instead, try to listen carefully to the concerns and ask clarifying questions. Work on the issues and follow up with your CI a few weeks later to check your progress.
Ask for help when you need it. If you don't ask, your CI and colleagues will assume you are fine. If you do ask, they will most likely be happy to help. Remember that asking for help isn't a sign of weakness or ignorance—rather, it demonstrates your professionalism, desire to improve, and commitment to patient care. Eventually, you will be in a position to mentor others—but for now, accept the valuable opportunity to be mentored and to grow.
Once you finish your clinical rotations, graduate from your degree program, and pass the licensure exam, you will be ready to launch your career in physical therapy. You may even want to start your own PT clinic! It's a good idea to find a PT mentor who can advise you through these beginning stages. Onward to an exciting career helping patients improve their health and movement!
The largest PT school in the United States,* the University of St. Augustine for Health Sciences (USAHS) offers a hands-on Doctor of Physical Therapy (DPT) degree. Practice with mock and real patients in our state-of-the-art simulation centers and learn anatomy with our high-tech tools. Prepare for clinical practice with a wide range of patients, as well as advanced roles in research, practice leadership, and policymaking. Residential and Flex (online/weekend) paths are available.
*Based on total DPT degrees conferred, as reported by the Integrated Postsecondary Education Data System (IPEDS). Data is captured by IPEDS through interrelated surveys conducted annually by the U.S. Department of Education's National Center for Education Statistics (NCES). https://nces.ed.gov/ipeds/
Sources
Jessica Baugh, "Advice from a CI: What I Want Students to Know Before Starting Clinical Rotations," APTA's The Pulse, June 11, 2018: http://www.apta.org/Blogs/Pulse/2018/6/CI/
Allison Clark, "Advice to Me on My First Day of Work," HospitalRecruiting.com, January 12, 2017 (updated on May 3, 2018): https://www.hospitalrecruiting.com/blog/3677/advice-to-me-on-my-first-day-of-work/
Jacob Melnick, "Advice to Students – 4 Things to Consider When Entering the Clinic," Evidence in Motion, March 22, 2019: https://evidenceinmotion.com/advice-to-students-4-things-to-consider-when-entering-the-clinic/
Zach Stearns, "Three Things I Wish I Knew Before I Started My Clinical Rotations," APTA's The Pulse, April 4, 2017: https://www.apta.org/Blogs/Pulse/2017/4/Clinicals/