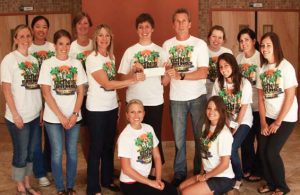 The Occupational Therapy Program at the University of St. Augustine was very pleased to present a gift of $25,000 to the American Occupational Therapy Foundation. The donation was given in support of intervention research as outlined in the AOTA/AOTF Occupational Therapy Research Agenda (2010). Specifically, the University is interested in supporting research intended to evaluate the efficacy of occupational therapy interventions in controlled conditions.
Dr. Stanley Paris, Founding President, believes that universities like ours that are focused primarily on teaching clinical skills have a responsibility to also support research. Donations such as this are evidence of the University's commitment to support the professions offered through USA's educational programs.
Dr. Charles Christiansen, President of the American Occupational Therapy Foundation, stated that he was interested in dialoging with the faculty of the Occupational Therapy program before decisions were made concerning allocation of these greatly appreciated funds. He suggested that post-doctoral fellowships could be an avenue to explore in regards to supporting evidenced based research. Way to go OTs!