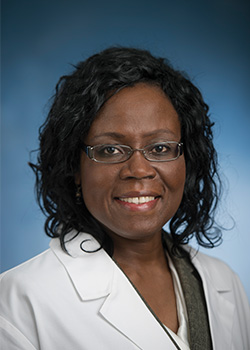 Dr. Maria Ijomanta '11 could see the anxiety on the parents' faces when they brought their 8-year-old daughter, stricken with polio, into the Nigerian outpatient clinic to meet with a physical therapist. The child couldn't walk and her parents worried she might never be able to. It was 1986 and Ijomanta was a student in the Lagos University Teaching Hospital clinic. She watched in awe as the instructor calmly educated the parents, informed them of their options, and outfitted the child with a brace and crutches to help her stand and move.
"It looked so hopeless, but then the instructor said, 'Here's what you can do,' " Ijomanta says. "And eventually the child could walk. It's incredible to watch someone gain strength through mobility and to transform from being helpless to being able to live a normal life."
That's what drew Ijomanta to the profession of physical therapy and, after immigrating to the United States in 1994 and establishing herself as a physical therapist, she enrolled in the Orthopaedic Manual Physical Therapy (OMPT) Fellowship, the Manual Therapy Certification (MTC), and finally the Transitional Doctor of Physical Therapy (tDPT) programs. "There is something very powerful and very rewarding about being in a position to alleviate another person's pain and suffering and be instrumental in building lives," she says.
Though she's been practicing physical therapy since receiving her bachelor's degree from the University of Lagos in Nigeria in 1988, Ijomanta decided 20 years later that she wanted to further her education. The university's focus on manual therapy, clinical reasoning, research, and presenting appealed to her.
"As far as I knew, I was doing just fine. I had all the clinical knowledge, but I knew I had limitations. I felt that I needed to be a specialist, but I had reached a plateau," she says.
"Going through the programs was life changing. I was very impressed by the instructors' level of expertise. I saw how I could grow, and with great hands-on training become a master clinician. I want to be that good."
Although she had clinical knowledge before she became a student, each course she took, from manual therapy and pharmacology to differential diagnosis and imaging, expanded her knowledge and, more importantly, what she saw while she was in the clinic. "I suddenly had X-ray vision into my patients. I began to see not just on the outside but the inside," she explains. "I found myself being able to explain to the patient exactly what was going on. There are no two ways about it: I wouldn't have these skills or this knowledge if I hadn't gone through these programs."
Now employed as a physical therapist at RediMed Physical Therapy in Ft. Wayne, Indiana, Ijomanta puts into practice what she has learned every day. "The university brought it all together for me. I am more confident and my patients are more confident in me," she says.
Once in a while, though, a patient has his doubts. One 20-something man came to RediMed after being referred for back pain. He was skeptical, and wanted to get an MRI instead of going through physical therapy. "He said, 'I don't even know why they sent me here,' " she recalls. "I convinced him to go through his evaluation and explained why he'd been referred to me." After just one brief session of lumbar mobilization—the patient said he felt miraculously better. Though his physical therapy would continue for some time after that, he was sold on it—and on Ijomanta.
"At a time when many of my peers are feeling stale in their career, mine feels like it's just begun," she says. And that's no overstatement. Ijomanta recently accepted a position as a physical therapist at the VA Ann Arbor Healthcare System. "The curriculum at the University of St. Augustine for Health Sciences is so rich. I can now see myself venturing into research, teaching, and mentoring. It is amazing how far I have come."
Share why you've returned to the university to earn another degree by emailing the magazine team at [email protected].