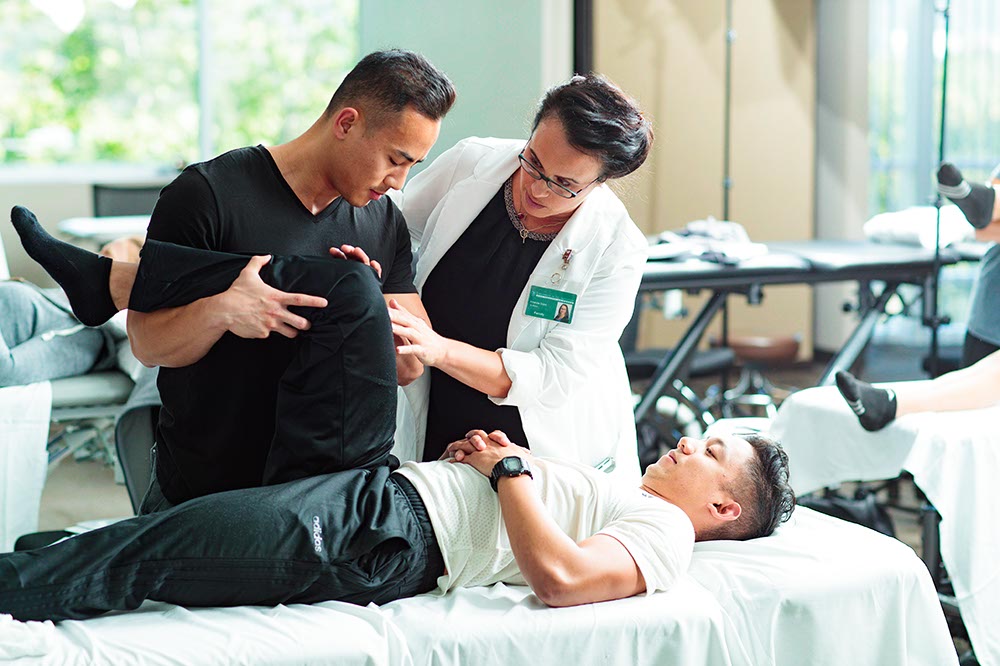 Physical therapists help injured and ill patients manage their pain, improve their range of motion, and get back to functioning at their highest potential. Joining this rewarding profession requires years of education, mastery of a variety of skills, and both national and state licensure. This post details the steps you need to take to become a licensed physical therapist.
How Long Does It Take to Become a Physical Therapist?
To become a physical therapist, you'll need to enroll in a Doctor of Physical Therapy (DPT) program, which will take about three to four years to complete. Before you can enroll in a DPT program, you must first earn a bachelor's degree from an accredited institution, ideally with a major in health sciences. A bachelor's degree typically takes three to four years to complete for full-time students.
Career Requirements & Prerequisites*
| | |
| --- | --- |
| Degree level | Doctorate |
| Degree field  | Physical therapy |
| Licensure | Pass the National Physical Therapy Examination & specific state licensure requirements |
| Skills | Compassion, attention to detail, dexterity, interpersonal skills, physical stamina, resourcefulness, time management skills |
*Source: Bureau of Labor Statistics, U.S. Department of Labor, Occupational Outlook Handbook, Physical Therapists,
on the Internet at https://www.bls.gov/ooh/healthcare/physical-therapists.htm (visited January 09, 2020).
All physical therapists must earn their Doctor of Physical Therapy (DPT) degree. After you obtain your doctoral degree, states also require that you become licensed. Each state has specific requirements; however, every state requires candidates to pass the National Physical Therapy Examination, administered through the Federation of State Boards of Physical Therapy. Because licensed physical therapists work across a wide range of settings to help patients with a variety of issues, some qualities that employers look for in physical therapists are compassion, interpersonal skills, and the ability to manage time wisely.
Steps to Becoming a Physical Therapist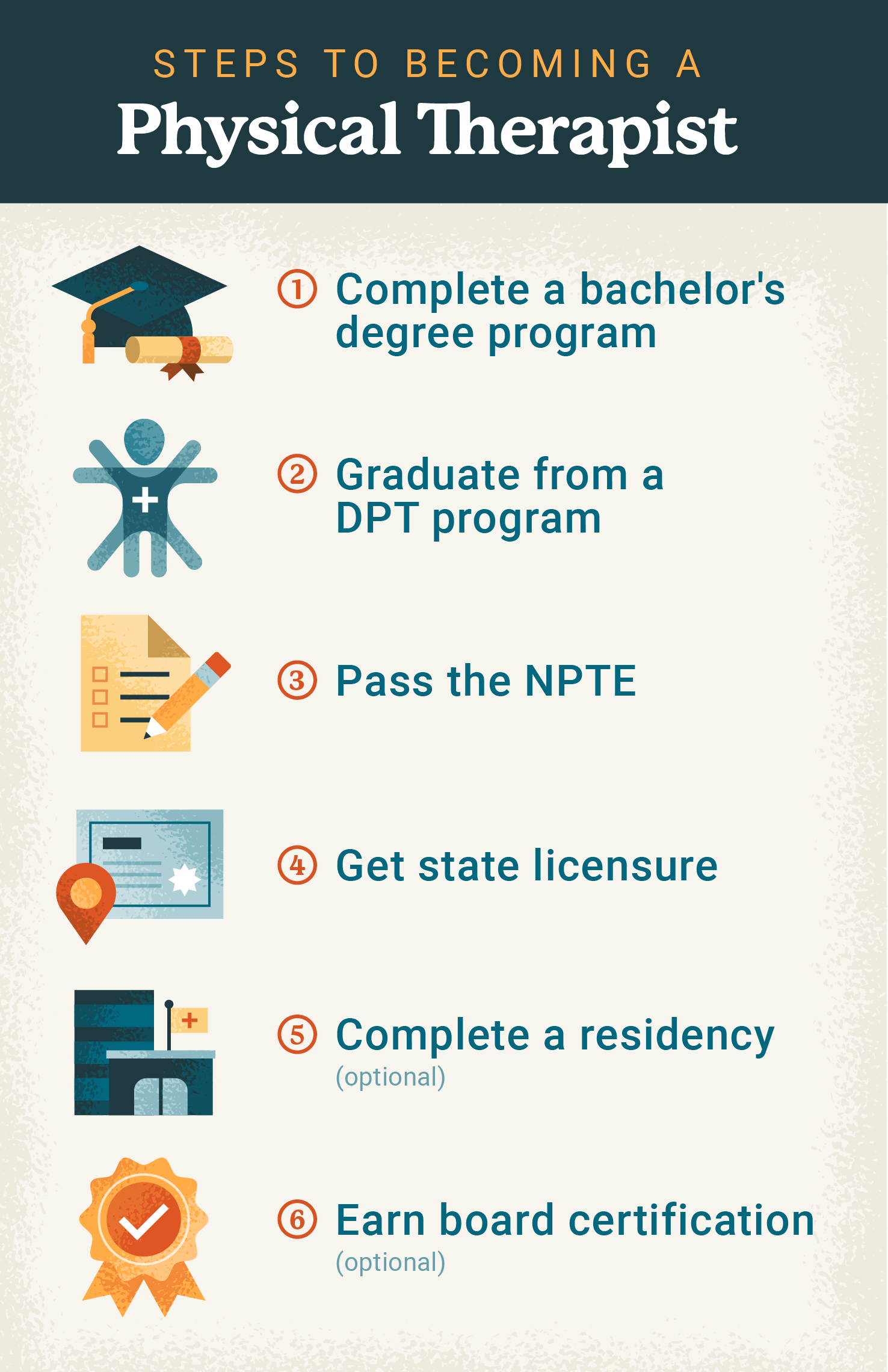 Step 1: Complete a Bachelor's Degree Program and Prerequisites
Typically, students will need to earn a bachelor's degree in a field related to health science, exercise, and/or sports. Students may also be required to complete specific prerequisites, such as courses in physics, biology, chemistry, physiology, and anatomy. However, it is not always required. Check the prerequisites of the doctoral degree programs you are interested in and be sure to take the classes you need.
Step 2: Graduate from an Accredited Doctor of Physical Therapy Program
Next, students must enroll in and complete an accredited Doctor of Physical Therapy program. In general, a physical therapy programs begin with didactic courses in pathophysiology, imaging, biomechanics, anatomy, and more. During the second year of the program, students enter the clinic for hands-on rotations supervised by a clinical instructor. The more innovative schools may also include a simulation component. For example, the University of St. Augustine for Health Sciences (USAHS)—the largest physical therapy school in the United States—features a state-of-the-art simulation center on each of its five campuses. There, DPT students have the chance to practice clinical interactions with mock patients before they enter the clinic.
A few graduate schools also offer innovative scheduling options. USAHS offers both a Residential (weekday) DPT program and a Flex (weekend) DPT program. The Residential program takes less than three years to complete, on average, while the Flex program takes about four years for most students.
Step 3: Pass the NPTE
In order to become a licensed physical therapist, you must pass the National Physical Therapy Examination (NPTE), which is given by the Federation of State Boards of Physical Therapy (FSBPT). This computer-administered, multiple-choice exam is offered four times each year, in January, April, July, and October. Candidates are allowed by the FSBPT to take it three times in one year.
The NPTE consists of 250 multiple-choice questions split into five sections. It is scored on a scale of 200–800 and scoring a 600 or above is considered passing. In 2018, more than 90% of first-time candidates passed the NPTE.
Step 4: Obtain Licensure in Your State
Every state requires physical therapists to become licensed before they practice. Licensure looks different for each state; however, most require practitioners to pass the NPTE and fulfill other criteria, such as compliance training, background checks, etc.
To maintain licensure, physical therapists must meet continuing education requirements in most states. Continuing education courses keep physical therapists current with the profession's standards and trends.
Check with your state board to determine your licensing requirements.
Step 5: Complete a Residency Program (optional)
A clinical residency is a post-graduate program that includes additional training, coursework, and clinical experiences. A residency is a good way to begin specializing in your area of greatest interest.
Step 6: Earn Board Certification (optional)
Following graduation and after working in the field, physical therapists have the opportunity to become board-certified clinical specialists through the American Board of Physical Therapy Specialties (ABPTS) in one of nine specialty areas: Cardiovascular and Pulmonary, Clinical Electrophysiology, Geriatrics, Neurology, Oncology, Orthopaedics, Pediatrics, Sports, and Women's Health. In order to become board certified, applicants must at a minimum pass an exam and complete an APTA-accredited residency program, or at least 2,000 hours of clinical work. Additional requirements may apply depending on the specialty area.
Getting Started
Physical therapy is a rewarding career that helps patients recover from injury and enjoy their lives. Whether you're currently in high school or college, choosing a grad school that offers a robust DPT program will be an important step along your journey to becoming a practitioner.
At the University of St. Augustine for Health Sciences, we offer an esteemed Doctor of Physical Therapy program that challenges students to be versatile, empathetic, and well-skilled practitioners. Our DPT students learn to assess patients, create treatment plans, and use hands-on therapy techniques in real-world simulations.
If you're interested in earning your Doctor of Physical Therapy degree at the University of St. Augustine for Health Sciences, email us at [email protected] to meet your enrollment advisor and begin your educational journey toward becoming a licensed physical therapist.
*Sources:
Bureau of Labor Statistics, U.S. Department of Labor, Occupational Outlook Handbook, Physical Therapists, on the Internet at https://www.bls.gov/ooh/healthcare/physical-therapists.htm (visited January 04, 2020)