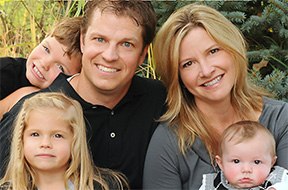 While managing and owning a growing private practice, treating full time, and juggling the responsibility of being an involved parent of 3 small children, Dr. Krell was able to complete the Transitional Doctor of Physical Therapy curriculum with a 3.3 GPA.
Upon graduating, and throughout the Transitional DPT program, Eric quickly put his new knowledge to use in the clinical setting. As a private practice owner in an ever changing insurance and healthcare environment, Eric co-founded the Physical Therapy Action Committee of Colorado (PTAC-CO). This committee was formed as a grass roots effort to bring together Colorado physical therapist's in an effort to advance our profession alongside the Colorado APTA, as well as Vision 2020.
Outstanding Graduate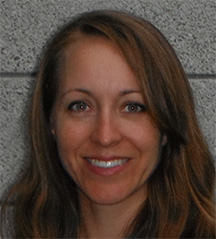 Ryann Whitney (Cramer) Cacciotti
Cardiff by the Sea, CA
I was working as a PTA in an outpatient orthopedic clinic prior to returning to school. I was frustrated as I wanted to be able to get different certificates or credentials to expand my knowledge, but was finding I was limited by being a PTA rather than a PT. When I heard about USA starting a program in San Diego, I looked it up and was very intrigued with the manual therapy concentration, as my knowledge of manual therapy as a PTA was very limited. I was also impressed by the offering of the Flex program, as this showed that the school was interested in allowing all people the opportunity to pursue their dream of being a physical therapist, even if they could not commit to the full-time course load, either due to financial or family reasons.
I graduated with honors and received the Outstanding PT student award, as well as the Stanley Paris and Catherine Patla Manual Therapy Award. After graduation in December 2009, I pursued my Manual Therapy Certification, successfully completing that certification in July 2010, and then began assisting in different manual therapy seminars for the San Diego campus that fall. I have now completed my training to become the S2 instructor for the San Diego campus. I became the Lab instructor for Anatomy in the Flex program in Spring 2011 and I also give guest lectures on Kinesiotape for the Therapeutic Exercise II class. I recently participated in the credentialing for clinical instructors, and have participated in clinical education for physical therapy students (one day/three day shadowing experiences, as well as full-time internships). I have been working at North County Water and Sports Therapy Center in San Diego since graduation, where I am blessed to be surrounded by amazing therapists who help me grow as a therapist, as well as a teacher.
I am recently married and look forward to what life has to offer as we build a family together. I have been active in American Cancer Society's Relay for Life since I was a student at USA, acting as team captain for Team USA, and more recently becoming a member of the planning committee for the event.