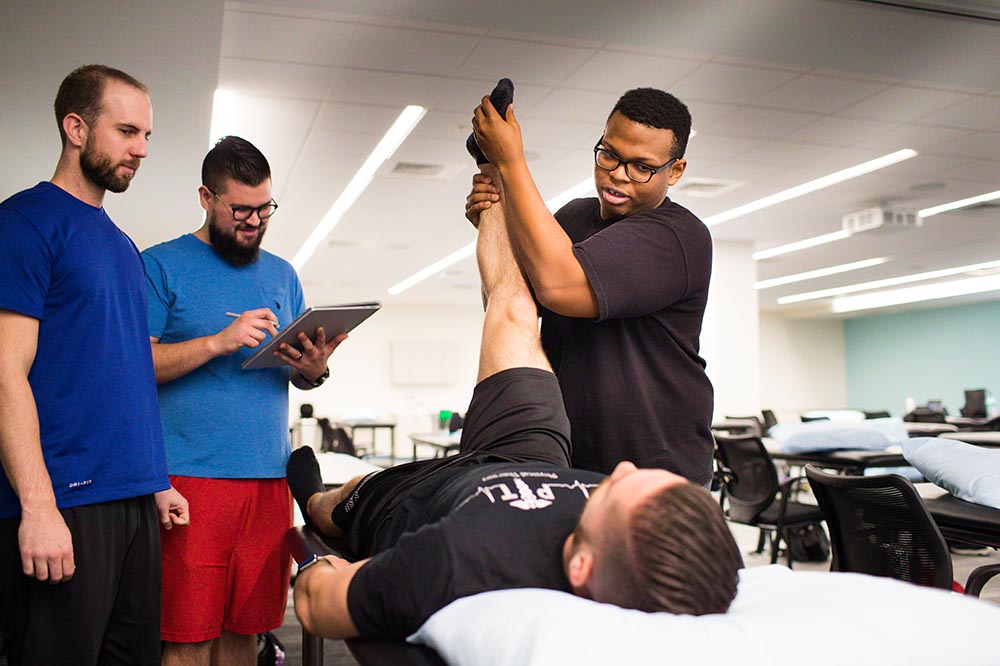 Interested in a career in physical therapy? Through hands-on treatment, physical therapists help patients recover from injury and live to their fullest potential. Learn what physical therapists do, where they work, what level of education they need to practice, and what career paths are available to them. 
What Do Physical Therapists Do? 
Physical therapists help patients with injuries and chronic health conditions regain their range of motion, manage their pain, and improve their quality of life. For example, if you need help managing lower back pain or recovering from an ACL tear, you would go to a physical therapist. PTs play a critical role not only in treating musculoskeletal conditions, but also in educating patients about staying fit and preventing future injuries.
Where Do Physical Therapists Work? 
Physical therapists work in a variety of settings, ranging from private clinics and hospitals to work settings and sports facilities. Many environments allow physical therapists to wear slacks and a dress shirt or comfortable scrubs. 
Physical therapists can work in: 
Private practices 

Hospitals

Schools 

Sports and fitness facilities 

Home health agencies 

Outpatient clinics    

Inpatient rehabilitation facilities 

Workplace environments 

Skilled nursing facilities 
Physical Therapist Education Requirements
In order to become a physical therapist, you need to have a bachelor's degree, preferably in a science-related field. Then you need to earn a Doctor of Physical Therapy (DPT) degree from a CAPTE-accredited physical therapist program. The DPT is the entry-level degree to the profession. Most programs take three years or more to complete and include classroom work, hands-on lab activities, and clinical internship experiences.  
Following graduation, you must pass the National Physical Therapy Examination (NPTE), which is administered by the Federation of State Boards of Physical Therapy (FSBPT). You must also pass your home state's licensure exam. State requirements for licensure vary.
Job Duties of a Physical Therapist
Physical therapists work with patients to improve their movement and manage their pain. PTs use a variety of techniques to help their patients, including hands-on therapy, strengthening and stretching exercises, electrical stimulation, ultrasound, ice/heat, and much more. 
Physical therapists work with patients who suffer from back and neck injuries, fractures, neurological disorders, work or sports-related injuries, and other conditions. The treatments a physical therapist chooses will depend on the patient and their injury. 
According to the Bureau of Labor Statistics, physical therapists work with patients by: 
Reviewing patients' medical histories

Diagnosing patients by observing their movements and listening to their concerns 

Developing individualized care plans for patients 

Outlining clear goals for patients and the expected outcomes of the plan

Using exercises, stretching, equipment, and hands-on therapy to manage patients' pain, increase mobility, and prevent further pain and injury 

Recording patients' progress and modifying the plan of care if needed 

Educating patients and family members about the recovery process 
Job Skills
Being a physical therapist can be mentally and physically draining. It's a role that requires hands-on, individualized patient care. Some of the job skills needed to be a physical therapist are: 
Stamina 

Compassion 

Interpersonal communication skills 

Attention to detail 

Dexterity 

Creative problem solving

Resourcefulness 
Career Paths for Physical Therapists
Physical therapy offers several opportunities for advancement. You can choose to continue your education with a clinical residency or fellowship, or you can opt to specialize in one or more areas. Many PTs choose to become leaders in the field by opening their own private practice. 
Continuing Education 
After earning a DPT degree, licensed physical therapists can pursue a residency or fellowship to further their education. 
Clinical residency

: A clinical residency is an optional, structured program that licensed physical therapists can take post-graduation. Typically one year long, it is a clinical and didactic education that is designed to advance a physical therapist's preparation as a provider of patient care services in a specific area of practice. 

Clinical fellowship

: A clinical fellowship follows the residency and is similar in structure. It is for physical therapists who have clinical expertise in a defined area of clinical practice related to the focus of the fellowship. Fellowship programs must have: 

A curriculum that is focused on a subspecialty area of practice 

A mentored clinical experience

A patient population that creates an environment for advanced clinical skill-building 
Certification and Specializations
Once they have significant practice experience under their belt, a physical therapist can become board certified as a clinical specialist through the American Board of Physical Therapy Specialties (ABPTS) in one of several specialty areas, including: 
Cardiovascular and pulmonary

Geriatrics

Pediatrics 

Oncology

Neurology

Clinical electrophysiology 

Orthopedics

Sports

Women's Health

Wound Management
In order to become board-certified, applicants must pass an exam and complete an APTA-accredited residency program or at least 2,000 hours of clinical work. 
How to Start Your PT Career Today 
If you're excited by the possibility of helping patients as a physical therapist, make sure to choose a grad school that offers a strong Doctor of Physical Therapy program that will challenge you to become a versatile, empathetic, and autonomous practitioner. 
The largest PT school in the United States, the University of St. Augustine for Health Sciences (USAHS) offers a hands-on Doctor of Physical Therapy (DPT) degree. Practice with mock and real patients in our state-of-the-art simulation centers and learn anatomy with our high-tech tools. Prepare for clinical practice with a wide range of patients, as well as advanced roles in research, practice leadership, and policymaking. Residential and Flex (weekend-focused) pathways are available.
Sources: 
APTA, "Physical Therapist (PT) Education Overview," last updated Nov. 12, 2019
Bureau of Labor Statistics, "What Physical Therapists Do," Sept. 4, 2019: https://www.bls.gov/ooh/healthcare/physical-therapists.htm#tab-2