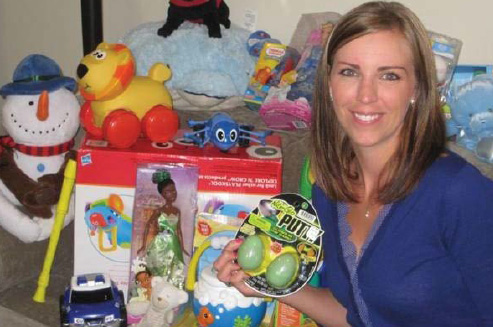 Symptoms of post-traumatic stress disorder have tripled among combat exposed military personnel in the past ten years as reported by the American Occupational Therapy Association. Military personnel returning from missions abroad demonstrate symptoms such as nightmares, flashbacks, memory loss, insomnia and depression. Occupational Therapists are trained in treating mental health disorders in helping the wounded (physically and emotionally) return to meaningful daily active life. The Master of Occupational Therapy students at the University of St. Augustine have found a new way to promote health and healing through an indirect model of providing services to families with a volunteer approach.
For the past year, the Student Occupational Therapy Association (SOTA) members at USA have been actively involved in a community partnership with the Fisher House Foundation. In this effort, they have been providing support in the recovery and well-being of injured military personnel and more specifically their families by attending to their psychosocial and emotional needs. The Fisher House is a charitable organization that benefits injured military personnel and their families in times of need. The Fisher House in San Diego, CA benefits families and loved ones of soldiers who are recovering at Balboa Medical Center.
The families that come to the Fisher House are facing a crisis of some sort and are usually very overwhelmed and or in shock. Families spend the majority of their time at the hospital waiting for their injured loved one to recover. Many family members drive all night to be with their family and are exhausted physically and emotionally. Students at USA engage in voluntary events benefiting the Fisher House, through helping to provide the necessary supplies for families of the injured. Each month, students take on a new project which might entail preparing fresh meals, supplying gift cards, making a financial donation and/or coordinating various fundraising activities. Recent fundraising has included a toy drive for the children of injured soldiers staying at the Fisher House.
Currently, the USA MOT students are organizing a fundraising event in conjunction with the San Diego Padres. A portion of money from each ticket sold will go directly to the Fisher House. There are nearly one hundred students planning to attend the event.
SOTA is excited to be contributing to such a worthwhile organization whose sole effort is to facilitate the recovery of wounded soldiers by providing the necessary support for their families during their recovery and rehabilitation while serving in combat.