Master of Health Science Overview (MHS)
It is your time to lead. At the University of St. Augustine for Health Sciences (USAHS), the Master of Health Sciences (MHS) program can help position you to lead the future in one of the fastest growing industries. You will gain real life experience and expand your professional network as you work with an industry leader who will guide and mentor you throughout the program.
Choose from a general degree program, or a number of specializations that will help prepare you for leadership in your field of choice.
As a student of health sciences, you will gain practical skills in order to excel in a variety of roles in athletic training, health informatics, executive leadership, education, and more.
MHS graduates will work in professional athletic associations, educational institutions, hospitals, clinical research firms, and a variety of health care settings. Employment of medical and health services professionals is projected to grow 17 percent from 2014 to 2024, much faster than the average for all professions.*
Program Overview
The MHS program may be completed in two years or less, depending on the path you choose and the number of courses you take in each trimester.
Collaborate with peers and experienced faculty through video discussions, interactive activities and advanced coursework.
Collaborate with industry partners in a comprehensive project that may be submitted for publication in a peer-reviewed journal, presented at a conference, or shared among colleagues.
Choose to complete your degree entirely online.
Specialize in your field of choice including Athletic Training, Informatics, Executive Leadership, and Teaching & Learning with optional EdD Bridge Program.
Participate in an optional on-campus immersion
The 36-credit hour program includes 21 credit hours of required courses and 15 credit hours of electives.
Choose your path
As a student in the MHS program at USAHS, you can choose between two different pathways to complete your degree, giving you the flexibility to advance your credentials and expertise in the way that works best for you.
Accelerated Pathway
Complete the program in as little as 1 year and 4 months
For students with prior relevant experience
Competency-based framework available for select courses (accelerated learning)
Complete various assessments and demonstrate mastery of course competencies to progress through the program
Partner with a faculty mentor
Traditional Plans of Study  
Complete the program in as little as two years
For early career professionals or students who prefer a traditional course schedule. This option is ideal for students who need to balance their time between work, school and family
As an MHS student, you'll benefit from:
Flexibility
The MHS program is designed to meet the needs of working professionals – allowing you to further your education while continuing your career. The MHS program can be completed entirely online, and includes optional on-campus immersions. Whether you are interested in expanding your knowledge of evidence-based practices, leading your peers, or adding to your credentials, there's a path for you at USAHS.
Professional Certifications
The Certified Specialist in Business Intelligence (CSBI) is available for students in the Informatics Specialization while the ImPACT® Trained Athletic Trainer (ITAT) is available for students who complete the Concussion in Sport course, part of the Athletic Trainer specialization.
Learning Resources
Take advantage of a variety of extracurricular activities, including journal clubs, group collaboration, discussion groups, campus wellness events, and guest lectures – offered both online and at each of the university's five campuses. You will also have continuous access to online courses and resources, along with 24-7 tech support.
On-Campus Immersion
Attend one of our optional three-day, on-campus immersions as a part of your program. This immersive interprofessional experience will allow you to complete this course four-to-five weeks prior to the fully online option. Learn alongside your peers through collaborative team projects, and foster interprofessional problem solving, professionalism, leadership growth, and communication strategies. Hear what people are saying about our on-campus immersion program.
You will be responsible for the cost of travel and other expenses associated with optional immersion. Immersions are offered at one of the university's five campuses.
Interprofessional Education Opportunities
We believe that collaboration is a cornerstone of education. At USAHS, you will have the unique opportunity to learn alongside students from different health care professions to hone your skills and benefit from a variety of perspectives. We're confident that this team-based approach strengthens health systems and produces positive outcomes.
Six of the seven core MHS courses focus on interprofessional education. You will participate in dialogue with other healthcare professionals – physical therapists, occupational therapists, athletic trainers, nurses, healthcare administrators, and educators.
Learning Outcomes
Upon completion of the Master of Health Science (MHS) Program, graduates will be able to demonstrate:
Engage in personal and professional development and lifelong learning activities
Develop knowledge of fundamental concepts from which one can develop an interprofessional approach to solving problems
Apply evidence in decision-making associated with current healthcare practice
Interact in a manner that demonstrates effective communication for various audiences and purposes
Display qualities of integrity and professionalism in healthcare practice to advance the profession
Students Residing Outside the United States
Please note that many countries have their own accrediting and licensing bodies, and degree recognition and licensure differ from country to country. Additionally, there are a number of countries that do not recognize online degrees for employment or promotion purposes, particularly government agency employment or promotion. University programs are designed to meet accreditation, licensure and other requirements in the United States. If you reside outside of the United States, it is important that you review and understand the requirements of your country of residence to confirm licensure requirements, as well as recognition of your program for employment or promotion purposes in those countries.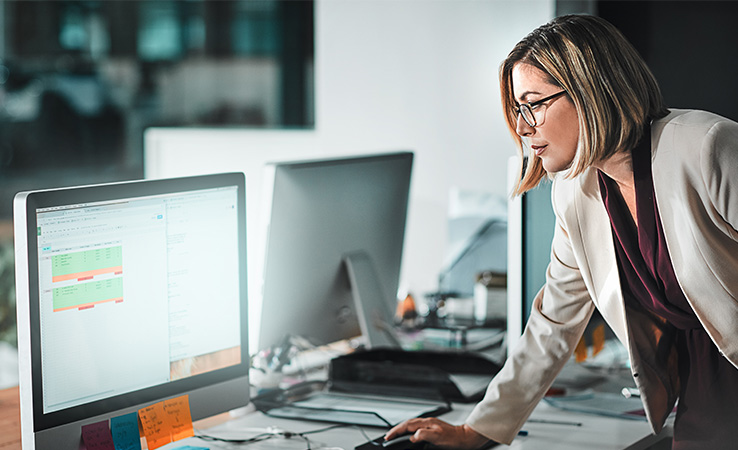 Why USAHS?
At USAHS, we are a graduate university that specializes in health sciences. We are committed to the development of professional health care practitioners through innovative, individualized, and quality education. Each of our academic programs focuses on foundational sciences and concepts, sound decision-making, and strong technical skill development. Read more about our mission.
Let us help you take the next step toward your future.
* Bureau of Labor Statistics, U.S. Department of Labor, Occupational Outlook Handbook, 2016-17 Edition, Medical and Health Services Managers, on the Internet at http://www.bls.gov/ooh/management/medical-and-health-services-managers.htm (visited Sept. 26, 2017).