Graduate Nursing Degree Programs
In today's evolving healthcare industry, demand is high for nurses who are educated at the master's and doctoral level.[1] Graduate degrees in nursing are a gateway to leadership roles—and in the School of Nursing at the University of St. Augustine for Health Sciences (USAHS), we are building a community of future leaders.
Our CCNE-accredited Master of Science in Nursing (MSN) and Doctor of Nursing Practice (DNP) programs, as well as our post-graduate certificates, will help you accelerate your career and influence healthcare outcomes, whether you work in a clinical, organizational, or academic role. Designed for working nurses, our programs are delivered online with content developed by our stellar faculty. You can choose to enrich your coursework with in-person immersions on campus and abroad. These immersions and our core courses are centered around interprofessional team practice—working with your peers in other healthcare disciplines.
Our online nursing degrees are flexible and individualized, allowing you to accelerate your path to completion or choose less intensive options. You will work with your faculty and academic advisors to select a study plan that fits your busy life.
Programs Offered
Our graduate nursing school offers two degree programs and a certificate pathway.
If you're a mid-career registered nurse with your BSN degree, and you're looking to deepen your skill set and expand your opportunities, the MSN may be your ideal next step. Whether you want to improve patient care by directly treating patients, developing better institutional systems, educating the next generation of practitioners, or leading a healthcare organization, the MSN has a role specialty that will help you take your career to the next level.
A DNP degree expands your platform and influence as you prepare for a broad range of leadership roles in healthcare organizations and clinical practice. Beyond the MSN, our DNP program offers additional education in competencies such as systems leadership, healthcare policy, interprofessional collaboration, evidence-based practice, and health information systems. USAHS offers both a BSN-entry DNP and an MSN-entry DNP.
The post-graduate nursing certificates at USAHS offer customized pathways toward earning career-expanding credentials. These specialty courses build on your foundational knowledge, preparing you to take on more responsibility or change your career trajectory. We offer certificates to nurses with MSN or DNP degrees in each of our three role specialties: nurse educator, nurse executive, and family nurse practitioner.
Role Specialties
Blend clinical expertise in diagnosing and treating health conditions with an emphasis on disease prevention and health management.

Work with patients and families across the lifespan to provide health education and counseling.

Bring a comprehensive perspective and personal touch to healthcare. 

Pursue certification as a Family Nurse Practitioner by the American Nurses Credentialing Center (ANCC) and American Association of Nurse Practitioners (AANP).
Lead a team of nurses across a broad range of healthcare settings.

Serve as a manager, director, supervisor, or chief nursing officer.

Oversee healthcare human resource management, finance, or economic operations.

Pursue Nurse Executive, Advanced Certification (NEA-BC) by the American Nurses Credentialing Center (ANCC).
Nurse Educator (available in the MSN program only)
Teach nursing students, practicing nurses, and other healthcare providers and clients.

Serve as a curriculum developer, instructional designer, teacher, or assessment evaluator.

Pursue certification as a Certified Nurse Educator by the National League for Nursing (NLN) or Nursing Professional Development by the American Nurses Credentialing Center (ANCC).
Learn more about these role specializations here.
The Doctor of Nursing Practice, Master of Science in Nursing, and Post-Graduate Nursing Certificate (FNP specialization) programs at the University of St. Augustine for Health Sciences are accredited by the Commission on Collegiate Nursing Education (CCNE), 655 K Street, NW, Suite 750, Washington, DC 20001, 202-887-6791.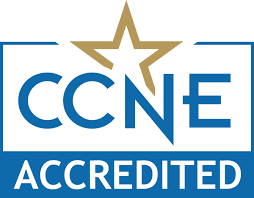 Why USAHS?
We're flexible.
You can complete your degree fully online[2] or participate in optional campus-based immersions.[3]

We offer accelerated plans of study to shorten your time to degree completion, as well as less intensive options.

Your faculty and academic advisors can help you choose the study plan that works best for you. 

Asynchronous learning accommodates busy work and life schedules.

Choose from six start dates each year.
We're innovators.
Our on-campus immersions feature interprofessional projects and collaboration with occupational therapists, athletic trainers, physical therapists, healthcare administrators, and other professionals.

Those in the FNP specialty will participate in simulated real-world scenarios in one of our cutting-edge Centers for Innovative Clinical Practice (CICPs).[3] 

Work with dedicated faculty and academic advisors, our writing center, and 24/7 tech support personnel.
We're leaders.
We've been solely committed to graduate health sciences education for 40 years.

Our distinguished faculty members will enrich your learning with their deep professional, academic, clinical, and research experience. 

100% of our faculty have doctoral degrees.
[1]The National Center for Health Workforce Analysis, "National and Regional Projections of Supply and Demand for Primary Care Practitioners, 2013–2025," November 2016.
[2]Students are required to complete practica at an approved facility.
[3]FNP students participate in two required on-campus intensives in our CICPs.