Speech-Language Pathology Leveling Courses
USAHS has designed several leveling courses to provide a summary of learning objectives and serve as a pathway to the MS-SLP program for undergraduates with a non-CSD or non-SLP degree and for undergraduates with a CSD, SLP or equivalent degree whose program did not include one or more leveling courses. The leveling courses also provide applicants with the necessary prerequisites to enter the graduate program. A copy of your transcript demonstrating awarded bachelor's degree is required for enrollment. Each leveling course costs $550, please complete the form below for more information.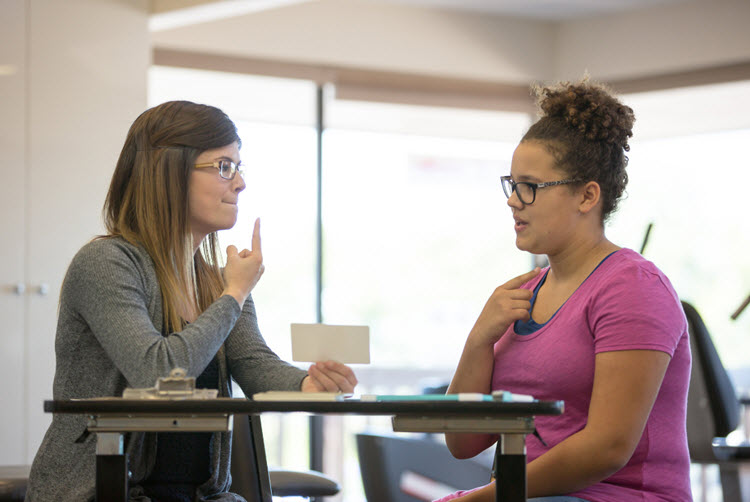 SLP 5014 Introduction to Communication Sciences and Disorders
This course introduces students to the professions and field of communication sciences and disorders (CSD). Basic concepts related to communication, speech, and language; typical development, anatomy, and physiology; as well as communication disorders occurring across the lifespan will be examined. Cultural differences, communication disturbances and disorders related to identification, assessment, and evidenced-based treatment will be explored.
SLP 5008 Speech Anatomy and Physiology
This course involves the study of the anatomy and physiology of the speech and hearing mechanisms. Students will study the structure and function of the skeletal, neurological, and muscular systems for respiration, phonation, articulation and resonation, as well as mastication and deglutition and the hearing mechanism. The organization and physiology of related nervous systems and functional implications will be explored.
SLP 5002 Audiology and Aural Rehabilitation
This course is an introduction to the field of audiology and examines the diagnosis and treatment of hearing disorders across the lifespan including audiometric test methods and nonmedical rehabilitation options for the treatment of audiological disorders.
SLP 5032 Normal Speech and Language Development
This course involves theoretical concepts and research findings concerning the normal developmental processes of speech and language learning and provides an understanding of child speech and language from infancy through adolescence, focusing on normal development. Students will study language and literacy development for monolingual and bilingual children.
SLP 5026 Phonetics
This course involves phonetic analysis of normal and disordered speech, including training in transcription using the international phonetic alphabet. The motoric aspects of speech sound production, including a concrete description of the distinct properties that are associated with the production of these speech sounds will be explored.