The landscape of higher education is changing—and USAHS is at the forefront of that change. Blended learning merges digitally delivered lectures together with on-campus classes and real-world experience. It empowers you to study independently while also getting essential hands-on practice. USAHS was an early adopter of this future-thinking format, which is now popular on universities across the country. Students are finding that the flexibility and convenience of blended learning frees up their time and can enhance their academic achievement and career readiness.
USAHS faculty members create video lectures that you can access any time, from any place, as often as you'd like. During your face-to-face classes, faculty will lead you in simulated clinical experiences in our state-of-the-art Centers for Innovative Clinical Practice.
Please note that different degree programs offer different study options. See your program's pages for details:
Residential paths feature digitally delivered lectures, learning activities, and interactive assignments blended with weekday on-campus instruction and lab time.
Flex paths offer working and remote students the same blended learning experience as Residential paths, but on a different schedule. You'll study online during the week and travel to campus for instruction and labs during select weekends each month.
Our post-professional programs are available online, or online with optional on-campus immersions. The immersions are a chance to engage face-to face with your classmates and faculty members. (The Family Nurse Practitioner role specialty in our nursing programs feature two required on-campus clinical immersions.)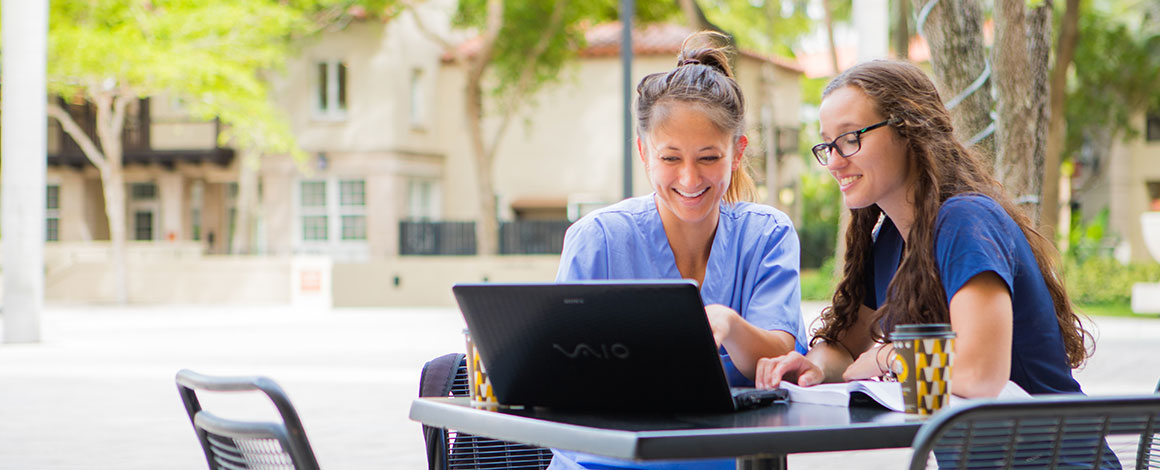 Completing coursework online offers several benefits. You can:
Watch lectures at your convenience

: You can view lectures during your most productive hours—early morning, late night, or any time in between. And you can do so at home, in a café, or during a break at work. 

Set your own pace

: Do you learn better in small doses or deep dives? Whatever your preference, you can control how much material you consume during a session.

Get the reinforcement you need

: Rewind the lecture a few minutes to reinforce that last important point. Review all lectures and slides before your exams.

Collaborate asynchronously

: Engage with professors and other students through discussion boards and web-based meetings.
Whether you're enrolling in a Residential, Flex, or fully online program, we're here to help you succeed. 
Prior to starting your program, your advisor and our online education staff can give you tips and tools so that you are fully prepared to navigate our digital learning platform. And technical support is just a call or click away.