Simulation bridges the gap between the classroom and your first clinical experience. USAHS's Centers for Clinical Practice (CICPs) are safe, faculty-guided simulation environments where you can practice, make mistakes, and learn without putting real patients at risk. Because it puts you in the mindset of working in a clinical environment, working in a CICP can help you gain confidence and skills early in your educational journey. It's a huge advantage to have that experience before your first job in the field.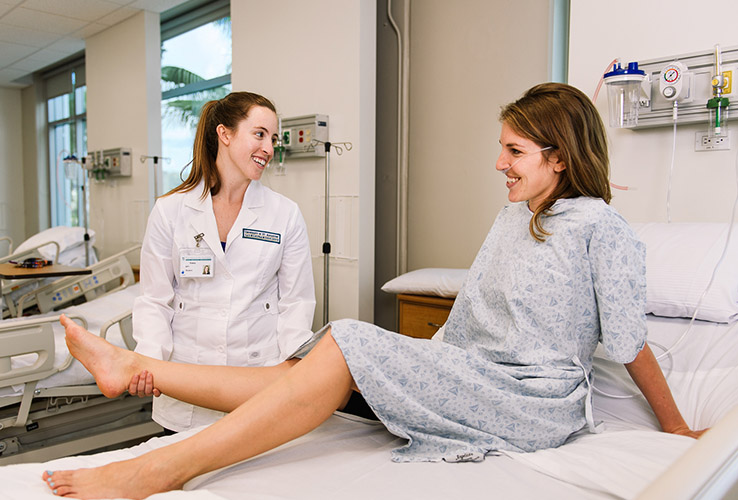 What Simulation Teaches
In the CICP, you'll learn to:
Think on your feet as you adapt to a changing scenario; draw on all your classroom learning and critical thinking skills to make good decisions.
Use real medical equipment, hospital beds, and rehabilitation machines.
Practice hard skills, such as moving a patient from a hospital bed to a chair, feeding a patient in bed, and safely managing the movement of medical equipment.
Quickly build trust with patients and their families by practicing bedside manners and other communication techniques that you can't learn from books.
Practice other scenario-based skills, such as helping a patient who has had a back injury and needs assistive devices, or performing a patient assessment in a home setting.
Participate in complex role-plays to practice skills such as interprofessional communication, clinical decision making, and patient safety techniques while other students observe from the observation room.
Work as part of an interprofessional team, discovering how clinical roles fit together. The CICPs give OT, PT, nursing, and speech therapy students the chance to collaborate as they would in the real-world environment.
Work within special simulation contexts, such as moulage—realistic mock wounds created using special makeup, gels, wax paper, etc.—applied to a patient.
Play the role of the standardized patient when it's your turn, developing empathy for your future patients.
Debrief in your class about your experience—talk about what worked well, what you could do differently, and how to apply your learning to practice.